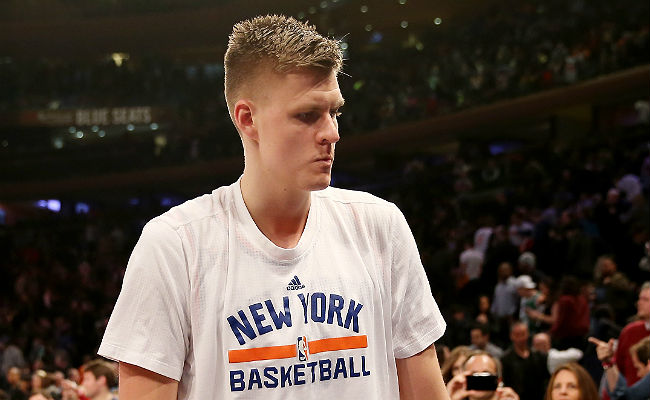 Kristaps Porzingis has had a tenuous summer with the New York Knicks. The word "peculiar" comes to mind, actually, but that one was used by Kyrie Irving shortly before his request for a trade out of Cleveland became public knowledge.
It's unfair to group Porzingis and Irving under the same adjective, mostly because Porzingis hasn't asked for a trade out of New York. That hasn't stopped him from being the center of a number of his own trade rumors, including for Irving himself.
Much of that trade talk stems from the fact that he skipped his postseason exit interview with the team. At the time, it was framed as a move that spoke to Porzingis' frustrations with Phil Jackson and his desire to trade away Carmelo Anthony, among other Jackson-related grievances.
Now that Jackson is no longer running the Knicks, some thought that Porzingis would make amends and return to New York with no issues. But as it turns out, the rift between the Knicks and the young Latvian star started not with Jackson, but with someone who is still with the team. Sports Illustrated repoted on Tuesday, citing a Peter Vescey report, that Porzingis skipped his exit interview because of a name head coach Jeff Hornacek called him earlier in the season.
According to the report, at one point during the season, Hornacek told Knicks center Willy Hernangomez, who is one of Porzingis' good friends, to tell Porzingis to "stop playing like a p*ssy."

That exchange led to Porzingis not showing up to his exit interview with former Knicks president Phil Jackson.
That's a bit of an unexpected reason for frustration, especially given all the other interpersonal issues the Knicks dealt with last year. The report noted that the two are now back on speaking terms, but it's clear that he was frustrated by all the drama the Knicks had last season.

A report in the New York Post on Wednesday disputed the "p*ssy" claim, though it brought up an equally strange reason for tension between the two sides.
But an NBA source familiar with the situation stated it's doubtful that Hornacek was Porzingis' reason for missing the meeting.

The report stated Porzingis also raised eyebrows in management circles by parking in the spots reserved for executives at the team's training campus in Tarrytown. However, a Knicks spokesman told The Post there are no reserved spots in their campus lot.
Still, drama is frustrating. Evem when it's completely ridiculous and petty. But not trading a young superstar away would help stabilize a franchise that desperately needs it, but there's no telling how long Porzingis is willing to wait for the Knicks to get it together. If there's another rough season in New York, things could get pretty peculiar there.