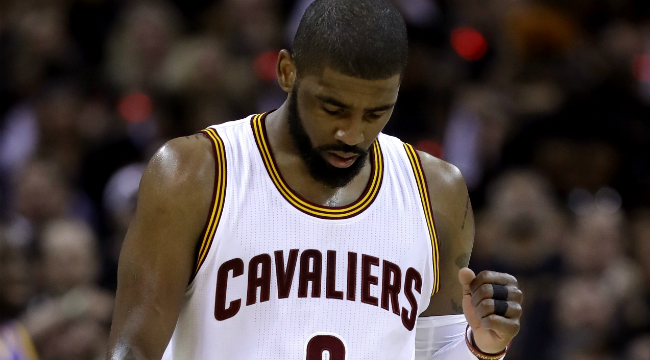 Kyrie Irving already has video game motivation headed into next season, but now it seems the stakes are raised even higher given the current state of the Cleveland Cavaliers.
Irving was frank about the team and its direction at a Sports Illustrated event on Tuesday, saying the team is in a "peculiar place" after reports that LeBron James isn't happy about recent front office changes the franchise has made.
Cleveland Cavaliers guard Kyrie Irving said to Sports Illustrated that his team is in a "peculiar place" this offseason after losing to the Golden State Warriors in the NBA Finals and struggling to make any big splashes in free agency to better their roster.

"The best thing we can do is handle things with class and professionalism," Irving said during a Sports Illustrated event in Los Angeles on Tuesday. "Obviously we have a great owner (Dan Gilbert) that's willing to spend a little money on guys that he believes in. At this point, we just (wait to) see what happens throughout the summer."
This could mean any number of things, but mostly it means that LeBron James could always walk right back out that door next summer. The team still hasn't found a replacement for former general manager David Griffin, either. And with Irving under contract until the end of the 2018-19 season, it's most likely Irving will be stuck recruiting people to Cleveland if James decides he's had enough of Gilbert once again.
Unless he can somehow get out, too. With all this swirling, honestly, "peculiar" is a pretty great word for what's happening in Cleveland these days.