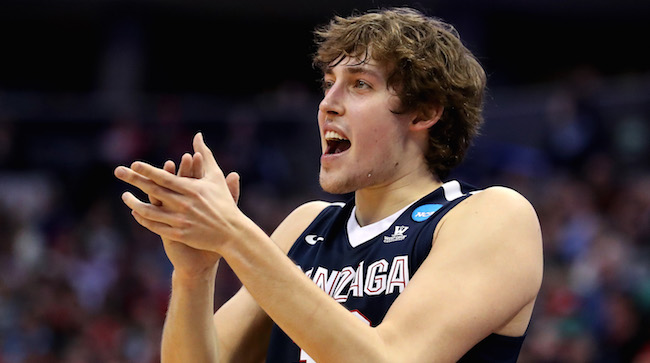 The Toronto Raptors continue to fill out their training camp roster with the addition of former Gonzaga star Kyle Wiltjer to a one-year, $1.3 million dollar non-guaranteed deal. The second-year man will join the Raptors on non-guaranteed contract to compete for one of the final roster spots for the 15-man roster. Wiltjer, a Canadian-American, played for Canada when he was 16 years old playing in the 2011 Nike Hoops Summit.
"I'm just really excited to be back in Toronto and Canada," Wiltjer told DIME. "I've been working really hard all summer long to get better in all facets of my game and I'm just happy that I'll be in my home nation."
Wiltjer signed with the Houston Rockets last season as an undrafted rookie after a strong career at Gonzaga and spent much of his season in the D-League with the Rio Grande Valley Vipers. In Houston, he only appeared in 14 games for a total of 44 minutes, averaging 0.9 points and 0.7 rebounds in those games, but he showed his scoring ability as a rangy, versatile power forward who could stretch the floor in the G-League.
With the Vipers, Wiltjer averaged 20.5 points and 6.4 rebounds per game while shooting 37.7 percent from three-point range. At 6'10, his shooting ability makes him an intriguing player going forward. The Raptors center rotation is pretty well set with Jonas Valanciunas, Jakob Poeltl, and Lucas Nogueira, but behind Serge Ibaka there is a hole at power forward.Wiltjer was among those dealt to the Clippers and then waived as part of the Chris Paul trade.

"I got thrown in the Chris Paul trade and I was really down after it happened because I thought Houston was a great spot for me," Wiltjer told us. "It really showed me that anything can happen and you have to always be prepared to move. Ever since that happened, I've been working harder than ever with my trainers Corey Calliet and Sam Limon (Pure Sweat) and against other pros."
Wiltjer's shooting ability makes him a legitimate candidate to land a roster spot considering the Raptors lack of shooting bigs on the roster aside from Ibaka.
"It's an uphill battle, but I have every intention of making this team." Wiltjer said.
Alfonzo McKinnie and Kennedy Meeks are the other two non-guaranteed signees by the Raptors so far this summer, and those three will be competing for the final two roster spots in camp.