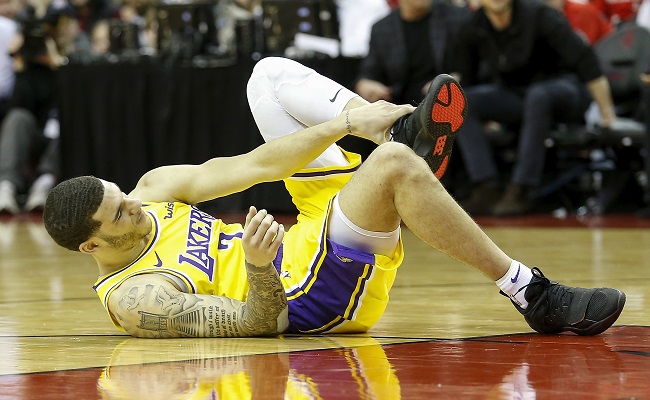 Lonzo Ball's string of ankle injuries has the Los Angeles Lakers and their fans worried about the guard's health in the short term. Ball won't play for the team again this season, something that was floated by Lakers coach Luke Walton earlier in the month as he missed much more time than expected from the sprain.
Ball was initially injured in January and expected to miss 4 to 6 weeks, but he was officially shut down by the Lakers later in March as it became clear they would not make the playoffs and essentially packed it in for the year. But Ball's ankle injury is the latest in a string of problems for the point guard, and it's clear the Lakers are not taking the multiple injuries lightly.
Buried in a story about Ball severing ties with a Big Baller Brand co-founder over allegations of more than $1.5 million missing from the Ball family accounts is an anecdote about the Lakers' concern over Ball wearing the signature shoe made by his family's company. The story — written by ESPN's Ramona Shelburne and Paula Lavigne — was originally published on Friday night but was reorganized and updated on Monday and included excerpts from an interview ESPN reporters did with Ball about Big Baller Brand co-founder Alan Foster.

In the interview ESPN revealed to Ball that Foster had previously spent time in prison for a financing scheme, but Ball revealed to ESPN that the Lakers had expressed concern over him wearing Big Baller Brand shoes given the string of ankle injuries he's endured.
Lonzo, seen as the future of the Lakers before the arrival of LeBron James, was shut down this season with a severe ankle injury after 47 games. It marked his third separate ankle injury, which left the Lakers searching for what could be the root issue of his troubles — including asking about his Big Baller Brand shoes.

"Yeah, they talked to me," Lonzo Ball told ESPN two weeks ago. "They asked me about it, and I told 'em, 'I feel comfortable. If I wasn't comfortable, I wouldn't play in 'em. If I didn't play in [his signature BBB shoes], I'd play in Kobe [Bryant's signature Nike shoe]. I work out in [LeBron James' signature Nike shoe], but that's because they're heavier."
Ball told the team that he'd be willing to make adjustments to "just minor things" about his BBB signature shoe, but he didn't seem to be willing to drop the company — which he owns 51 percent of — over the injuries. That would imply he doesn't think the ankle problems are connected to his shoes, though the Lakers rightly wondered about a potential correlation.
One of the many things the Ball family boasted about Lonzo's decision to go with Big Baller Brand when he turned pro is that he's allowed to wear whatever he wants, even if it is a Nike or adidas shoe. And if something actually is wrong with the shoe, it seems likely he'd choose his health over the good of the brand. But right now it seems Ball believes in the product he's making for himself and wearing, even if others around him are skeptical.