NEW ORLEANS – Nick Young is in his 10th year in the league and at 31 years old he's an elder on the Lakers roster (tied with Luol Deng and just behind Marcelo Huertas and Jose Calderon in age). The man who goes by "Swaggy P" is one of the most tenured veterans on the Lakers young roster and he's finding comfort in that new role.
Young is averaging 13.8 points (with a 44/41/85 shooting split), 2.3 rebounds and 1.1 assists per game, all of which are above his career averages. He's doing so as a full-time starter for the first time ever and has been equally efficient as productive, averaging a career low 0.6 turnovers per game and a career high 57.6 percent effective field goal percentage (his previous best was 51.1 percent).
Despite his veteran status, Young still plays the game with a youthful exuberance rare to see from a 22-year-old, much less a 31-year-old. This has been a point of frustration for much of Young's career, but in the 2016-17 season, something has clicked for the journeyman shooting guard as he's found himself very comfortable in his fourth season with the Lakers.
After participating in the Three-Point Shootout over All-Star Weekend, Young sat down with UPROXX Sports at the Dew Courtside HQ for a conversation about having fun on the court, getting buckets, Tracy McGrady, what he thinks is the defining Swaggy P moment and becoming an internet meme.

You're a guy that seems to have more fun on the court than anybody else.
Haha, yeah.
Do you think more guys should embrace the fun side of basketball and everybody talks about how they love the game and there's no doubt they do and I know it's competitive, but should guys have a little more fun when they're on the court and embrace the celebration aspect?
Yeah, I think you gotta enjoy the game. A lot of guys try to take on the Kobe approach more than anything, just stone-faced you know. This game goes by fast, so, for me, I'm happy to be playing the game I love and doing good at it, really.
This season it seems like you've settled into a comfortable spot with the Lakers. You seem to have kind of found your groove. What is it about this team and where you're at on the team that's allowed you to do that?
I think just the coaching staff being great. Just believing in me, keeping me out there, putting me in the starting lineup and talking to me. I worked hard this summer, so I'm glad to see it pay off.
You've got a good young core out there. Is it fun to play with those young guys and keep your youthful exuberance as you get older?
Yeah, yeah. For sure. These young guys these days, you've gotta talk to them and adapt to this generation, it's crazy. It's fun. It's fun to be the old guy and let them ask questions and see them go through the same things what I went through. So, it's pretty dope.

With your three-point celebrations, are those anything you practice or do they just come out in the moment and if you like it you'll go back to it?
Yeah, it pretty much just comes out in the moment. Teammates will be asking me, 'how do you come up with so many?' Like, 'stop playin, how you do that?' I'm like, man, it's just how I feel.
It feels like there's been a shift recently where fans are really embracing guys like you that go out and shoot and have that gunner mentality. Do you feel that fans are coming around to that and really enjoying it? And do you think there's a reason why?
I think it's just fun to put the ball in the hole. Fans like threes. I think Golden State brought a better spotlight to it, with how they shoot from anywhere, and I like it. I like shooting shots up. It's fun.
There's nothing better than getting buckets.
Nothing better than that!

Who were the guys that when you were growing up you watched and modeled your game after?
I grew up in L.A. I had the Kobe 'fro, everything. The jerseys, all that. I went to the parade. I was a big Kobe fan and T-Mac. Can't forget T-Mac. That's my guy. I had the little curl like him too.
People always talk about who they wanted to be in the driveway and I always wanted to hit that T-Mac fadeaway.
That's what I'm saying! You can't forget about T-Mac.
I feel like sometimes people don't really remember that for a few years there T-Mac was that dude.
For sure, for sure. And it was either Iverson, T-Mac or Kobe and then T-Mac kinda shifted his way out. I was mad.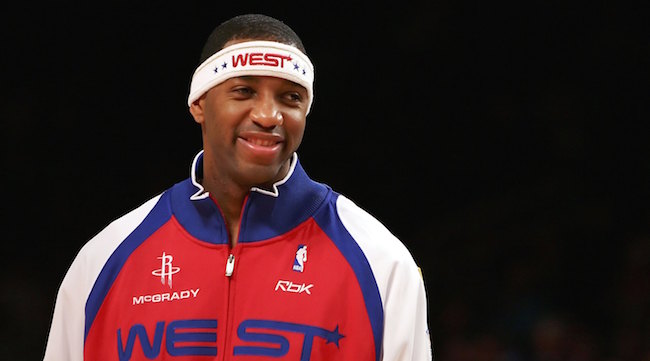 What's the most points you've put up in a game at any level?
Any level? High school. Fifty-six.
Do you have a favorite shot or moment from your NBA career that when you look back on that's the one? What's the Swaggy P moment?
Oh, I have to say this year. When I, um, it looked like I stole the ball from my teammate and I hit the game-winner [laughs]. Cause I wanted to shoot that ball so bad. So, I kinda did [steal it] but I didn't. I was in a tough spot.
You saw a ball and…
I saw the ball and I went for it. There you go [laughs].
You've become an internet meme twice, with your "what?" face and the missed shot celebration. When did you first find out about those and what was your reaction?
Oh man, I first found out about the question marks when I seen 'em, when they had me with the sombrero [laughs]. I was like 'oohhhhh, this is pretty good,' and then they just started adding everything to it. So, I started using them myself.