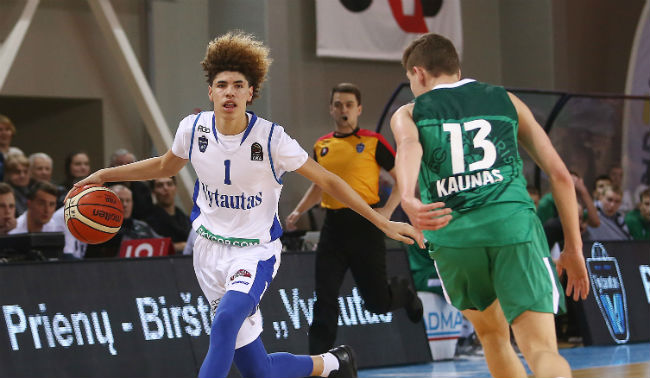 LaMelo Ball and his brother LiAngelo are getting quite the experience over in Lithuania. And the youngest Ball brother even got himself a new nickname.
It's been an up and down showing for the Ball brothers there, as they had a strong start for BC Vytautas, but both went scoreless in their second game with the club. There are frustrations with not playing enough minutes, but there also appear to be some issues with discipline on the court. Mainly, that LaMelo takes too many long shots for no real reason at all.
Vytautas coach Virginijus Seskus has expressed frustration with Ball's propensity to lob long shots instead of working others into the offense. He also called him a "little chipmunk" according to USA Today's LonzoWire.

It's quite a quote and, though loosely translated, kind of sums up the LaMelo Ball experience nicely thus far.
"When I watch them in practices, they stand out, especially the little one. You can't control that little chipmunk," Seskus said on Lithuanian TV, via a rough translation. "You say, 'Don't shoot 40-footers.' Next thing you know, he's shooting 40-footers.

"He's used to doing that stuff. They're not used to training hard. You need to make them give 100 percent in practices."
Shot selection and maturity will come with time, of course, and LaMelo is just 16. But it's clear his coach is frustrated with his quirks.
Chino Hills is moving on without the Ball family, and now they'll have to deal with pro coaches, and everything that comes along with that professionalism.