SPRINGFIELD, Mass — Phaquon Davis dribbled the ball down the court for Chino Hills. The Huskies were exchanging leads at the start of the fourth quarter at the 2018 HoopHall Classic, a position which, truthfully, they rarely found themselves in this time last year.
The 5'9 guard pounded the ball into the court once, twice, then rifled a pass to Will Pluma. The ball was then passed around the key in search of the ideal shot attempt before it was eventually sent into the hands of Chino Hills' top recruit, Onyeka Okongwu.
The 5-star prospect in the class of 2019 posted up ESPN's No. 2 prospect in the class of 2018, Zion Williamson. Okongwu dangled a hook shot over the powerfully-built Williamson to put the Huskies up 55-51 with seven and a half minutes left in the game.
This philosophy on offense was different and normal at the same time. Things were normal in the sense that the standard format of setting up a halfcourt offense was in play. The point guard facilitated an offense in which several smart and safe passes were made before finding, in the team's mind, the best possible shot.
But to anyone who'd spent any time over the previous two seasons watching the Huskies throw the basketball up and down the court like a football, pull up for halfcourt shots as if they were layups, or sacrifice defense for offense, the traditional and methodical approach for the Huskies looked out of place.
But these aren't your father's Huskies. Or, rather, these aren't Lonzo, LiAngelo, and LaMelo Ball's father's Huskies.

A NEW MAN AT THE TOP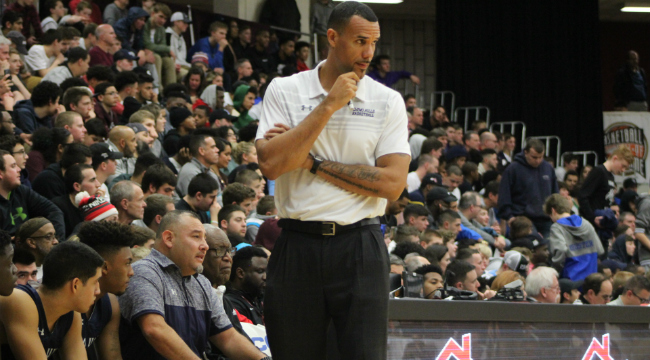 When LaVar Ball unenrolled his youngest son, LaMelo, and sent him and his older brother, Chino Hills alumnus LiAngelo, to Lithuania to play professionally, an era of 40-foot jumpers, daily national headlines, and 130+ point outings night in and night out came to an end.
In the fallout of it all, the Huskies found a sense of normality, and perhaps consistency, under the leadership of first-year head coach Dennis Latimore. A former college basketball player at Notre Dame and Arizona, Latimore is the third coach Chino Hills has had at the helm in the past three seasons.
What has made Latimore stand out at a program known for three brothers and a boisterous father is the fact that he held his own against the patriarch of the family. When LaVar Ball wanted to add four kids to the varsity team, Latimore said no. He also switched up the offensive game plan, and transitioned away from the run-and-gun style which changed the Huskies from a basketball team to a viral sensation. In its place, Latimore installed more halfcourt sets and built the offense around Chino's top dog, Okongwu.

Just like that, LaVar and LaMelo were out, and a new era was in.
"To me it's just common sense," Latimore told DIME. "You play to your strengths and your numbers. If we shot the ball consistently from the outside, if we did that, we would shoot more threes. If we didn't turn the ball over as much, we would run more. But what we do have is a guy inside that's unstoppable."
Latimore's players have responded well to the new coach.
"I love Coach Latimore," Okongwu said. "He's a people person, he wants to bring the best out of everybody. He doesn't really do favoritism, he just wants to get everybody better as a coach."
Latimore wasted no time fixing what he felt had to be addressed. The ball was spread around more from player to player. Against Spartanburg, Latimore continuously barked out "2-3, 2-3," from the Huskies' bench, and watched as his players pieced together a traditional defense against Williamson and co.

"It took some time to adjust to everything," senior Ofure Ujadughele said. "It was kind of new to me … a new system. I had to develop a new role. But now we've created a great bond. I really enjoy playing for him. If he tells me to run through a brick wall, I'll run through a brick wall for him. I really love playing for him."
In some sense, Latimore was given a blank slate when he took over Chino Hills. But in other ways, a shadow hung over the program from the national exposure of years past. Latimore was tasked with not only putting a winning team out on the court, but also with establishing a new culture.
That's not lost on his peers. Ray Barefield, who coaches at Rancho Christian, recognizes the work that Latimore has done so far and must continue to put in at Chino Hills.
"I think the coach is doing a great job of working around that shadow, where you had people kind of judging what's going to happen," Barefield said. "For him to take it over and put his staff on it where it doesn't have to look anything similar to what they were doing, he can just grab the bull by the horns and say 'this is the way I'm going to do it.' To stand strong on that, it takes a lot of heart."
But when Latimore took over, he didn't consider anything regarding the program's "culture." All he wanted was consistency.
"I teach too, so it's just about having high expectations for all of your players and being consistent," Latimore said. "I think with that, that's a recipe for success in any field that you're in."

BUILDING AROUND "O"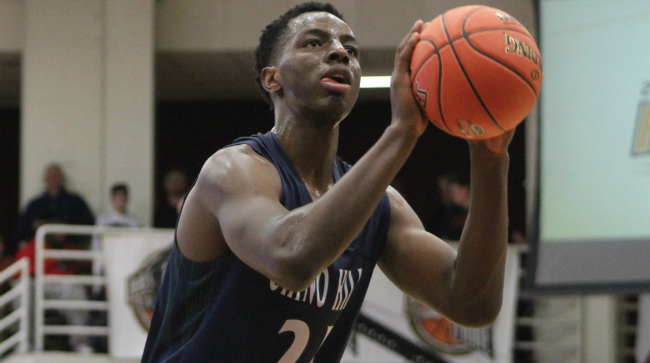 At 6'9 and 205 pounds, Okongwu, or O as his teammates call him, found success at Chino Hills as the team's primary post presence. But with this team being his team, essentially, he's expanded his game. Against Spartanburg at HoopHall, he scored 35 points, pulled down 14 rebound (eight offensive), and swatted four shots.
He's narrowed down his top five college choices to UCLA, Arizona State, Washington, Kansas, and USC. According to Latimore, the junior big man is more than ready to take the leap to the next level now.
"The guy is a very talented player," Latimore said. "Only a junior. I personally think he'd be starting on a lot of top-25 college teams right now. It's going to be scary two years from now."
Okongwu explained that his role as the team's focal point on offense isn't anything new, and that he'd been "doing that his whole life." Ujadughele added that Okongwu is more than ready to take on the responsibility of being the No. 1 option for the Huskies.

"Ever since I came into Chino, I knew O could be that guy," Ujadughele said. "He could be on any team and he could be that guy. Now he has a chance to show it. He's really grown into his role. He's the man."
Okongwu's motor stands out among his burly frame, soft touch, and skills on the glass. He's often the one making a play under his own basket, be it a putback, an offensive rebound and a kick out to the wing, or a dunk. The offense, as Latimore planned, runs through him.
But despite his activity under the basket, Okongwu always one of the first back on the defensive end, too. Head down, full sprint, Okongwu will beeline his way from one basket to the other.
His ability to go coast-to-coast is, in a way, the last remnant of the once-prolific Chino Hills offense, which turned games into track meets. But Okongwu isn't thinking about the past offenses which topped 100 points on a regular basis. He, and his teammates, are thriving in the new system.
"The ball gets moved around more, people get shots up, no more selfish plays, we have better defense," Okongwu said. "Stuff like that."

OLD FACES, NEW ROLES
Latimore said that he didn't feel as if he needed to "change the culture" at Chino Hills, but there has certainly been a shift. In addition to the focus on Okongwu on the offensive end, players like Pluma, Ujadughele, and eventually, the injured Andre Ball (a cousin of the Ball brothers) have stepped into bigger roles on offense and defense.
Last season, the ball was primarily handled by LaMelo (26.7 points per game) and LiAngelo (33.8 points per game). Ujadughele is one of the players who has benefited most in Latimore's system. Last year, he was the team's top defender, and was assigned strictly to defend the opposing team's top player.
Now, in addition to that, he's blossomed into an all-around player, and has developed his catch-and-shoot abilities and his driving skills.
"I can adjust to any system," Ujadughele said. "I'm very good in transition and open floor, and at the next level you're going to be have to be able to play in a set transition play. I think playing this system is going to help me more going into the next level. Even though the last year was fun playing run and gun."

With the infusion of Okongwu, Ujadughele, and Pluma (a lights out shooter) into the team, the Huskies are a totally different squad than they were just one calendar year ago. For opposing coaches, they've had to totally rewrite their game plan when going up against Chino Hills.
"If you've got guys shooting 50-60 times, that means there's a threat at all times, you've got to be on him at all times," Barefield said. "This year, this team you can see that there's more traditional things. They run through their post, they're going through the big men, they're utilizing other people."
Most players would cringe at the idea of losing two players that, on any given night, could score 50-plus points. But for the Huskies, it's a new opportunity.
"I think the biggest is the excitement coming into the game," Ujadughele said. "I knew I could rely on Melo, Gelo, [current Loyola Marymount forward] Eli [Scott], if I had a bad game, to come in and do what they do. But now I feel like, every game I have to play a good game. That means getting rebounds, playing defense, making shots. I have to do the whole thing. That motivates me every day. I can't have a bad game."

AN INTRODUCTION TO DEFENSE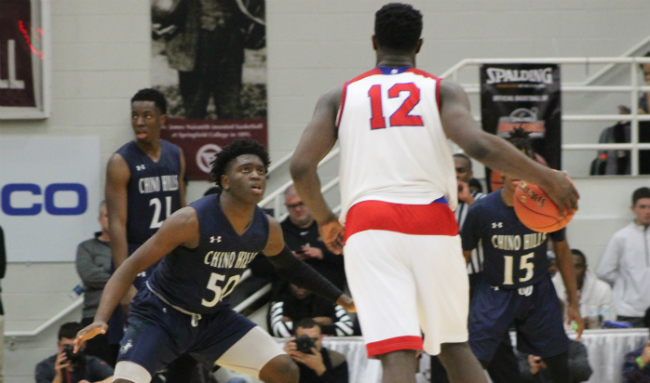 Visually, the offense might seem like the biggest change. There's no more cherry-picking, and there's certainly no more halfcourt shots. But Latimore's first major move as head coach was to install a true defense.
"When Coach Latimore first got the job, the first thing he told me was that I'm going to get help on defense," Ujadughle said. "Last year, I was primarily the person playing most of the defense. He told me that I was going to have help on defense, and the whole personnel would be playing defense."
Last season, the Huskies allowed 2,713 points, good for just a shade over 82 points per game. Through 17 games this season, the Huskies have cut that number down to 72.9 points per game, despite already having four more losses than last year's squad had.
In November of 2016, the Huskies defeated Rancho Christian 128-108. The Balls combined for 103 of those — LiAngelo scored 72 points and LaMelo scored 31. Okongwu was the only other Husky to record a point. This season, Chino fell to Rancho Christian, 81-60.

It was the first loss of Latimore's Chino Hills career, but it was normal.
"The system that they had last year was very…I don't want to say unorthodox, but there were some things you typically don't see," Barefield said. "They didn't have to be as responsible defensively. But it worked, and they were great at it."
Barefield acknowledged that this season, they didn't have the bizarre challenge of guarding someone who was camped out under the opposite basket while Chino Hills was on defense. Rather, scoring is more spread out.
More importantly, Barefield had to game plan for a defense.
"You can see the principles were lining up," Barefield said. "As the coach has been able to spend more time with them, you can see that their defense and execution and principles are starting to take more place. I think you can see that the terminology and the things that he's teaching, you can obviously see that they're getting more of a purpose on defense."

A NEW OUTLOOK
The Huskies went 30-3 last season, and finished the season as USA TODAY's fourth-ranked team nationally. The last time the program came to the HoopHall Classic, in 2016, it was the No. 1 program in the country. Now at 10-7 this season, the program is nowhere near the national posterity it had seen during the Ball era.
It's not necessarily a bad thing, though. The spotlight is relatively gone. The team doesn't have to read think pieces and columns criticizing the way it plays or any other things surrounding the way the program operates. Simply put, they get to play basketball.
"We're more of underdogs, a lot of people have doubted us," Okongwu said. "I have faith in my teammates and my team. I know we're just as fine as we were last year. I think we're one of the best teams around."
Added Ujadughle, "I feel like there's even more spotlight on us now. Because everyone is going to say 'Melo left, Melo's gone.' But we're still a very great team. I'm starting to show how much I can play and how much I've evolved year from year. I'm enjoying it."