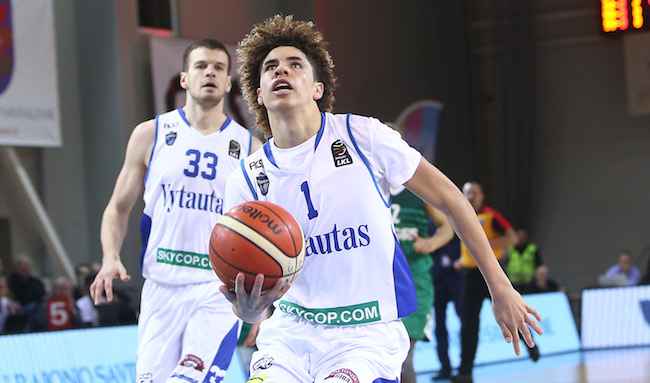 The Lithuanian basketball careers of LaMelo and LiAngelo Ball are in two parts, with them being role players that garner few minutes in the upper league and then serving as the top-billed stars in the lower league (that isn't even a league but a set of games against teams of other teens). Since the start of their self-actuated Big Baller Brand Challenge games, the Balls and their team Vytautas have gone undefeated in a series of exhibition games and have been given more of a chance to showcase their talents.
They stayed perfect on Tuesday with a 147-142 win over BC Dzukija, during which the siblings combined for 80 points. Ball family patriarch LaVar has also gotten more involved in team operations as the organization announced before Tuesday's game that he'd been named an assistant coach.
LiAngelo dropped 37, while LaMelo caught fire in the second half, scoring 23 points in the third quarter and knocking down five straight threes during one sequence. He finished with 43 points on the night and you can check out the full highlights below, courtesy of Overtime.
Though undefeated in exhibition play, Vytautas was in last place in the upper Lithuanian League as both brothers struggled in their debuts against more established professional players in the LKL.
It remains to be seen just how much sway LaVar will have as an assistant coach in the exhibition format, both in terms of his sons' playing time and the team's style of basketball, but he probably won't call LaMelo a chipmunk or ask him to stop chucking 40-footers.