The Chicago Bulls have plenty of reasons for optimism this season. Zach LaVine is back and healthy, hometown native Jabari Parker is eager to restart his career, and No. 7 pick Wendell Carter Jr. just might be their center for the future.
They also hit the jackpot last year with Finnish sensation Lauri Markkanen, a prototypical big man for the modern NBA who can do it all. Especially shoot. Markkanen made history last season when he became the fastest rookie ever to make 100 three-pointers, and he did it while shooting 38.9 percent.
After averaging 15 points and 7.5 rebounds for the Bulls in his rookie campaign, the organization expects big things from the sophomore forward. They'll have to put that on hold, however, while Markkanen recovers from an elbow injury that will sideline him for the first two months of the season. But he'll be worth the wait. Not only did he add nearly 20 pounds of muscle in the offseason, he's also using his rehabilitation time to work on his off hand.
We caught up with Markkanen earlier this week to talk about the coming season, what it was like growing up in a household full of professional athletes, and how playing point guard as a teen helped him evolve into the player he is today.
It also turns out that he's a huge Call of Duty fan and is super stoked for the release of Call of Duty: Black Ops 4, which will hit the market on Friday, Oct. 12. Fans can pre-order copies here.
DIME: How long have you been playing Call of Duty?
Lauri Markkanen: I started a little later, actually. I mean, I've played all the way from first Modern Warfare, and that was the first game I played, and I actually really loved it. So, I don't even know how many hours I've played that. From that point on, it's just me and my friends playing all the time and especially in high school. I just love that you don't really have to think about it or anything … It's fast paced, and you can just relax. That's why it's good.
You mentioned that you played a lot in high school with your friends. Do you play with your current teammates now, and if so, is there anyone who is clearly better than everyone else, or is there someone that you guys kind of like to pick on a little bit and team up on?
We used to have that in high school, but now I'm just playing mostly by myself. I mean, I don't have as much time with the family and all. It's like, every now and then I can play and most likely my friends can't play. And then the time difference too and like [them being] overseas. I live in America now, so that's an eight-hour time difference, so we haven't played together like most times.
We all have those stories of games between friends getting little bit too intense. Do you have a story like that from playing with your high school buddies back in the day when things got a little too heated?
I have never been that type of person that throws the controller or anything like that, but I've been staying away from that. If I start feeling that way, that's normally time to quit playing for that night. But I really love the zombie game modes. I've been playing those a lot with my friends so I'm really looking forward to the new one.


Obviously, it was disappointing to suffer the elbow injury right before the season started. Can you tell us a little bit about where you are in your recovery, what you're doing to get back to 100 percent?
I'm doing everything I can, just going to the gym every day, and there's always some different stuff I can work on. I've been lifting weights and working on my left hand and just trying to stay in shape so I'll be ready to go once my elbow feels okay. I've been doing…pretty much everything I can. Ice it, getting my range of motion back. I think I'm going in the right direction here.
Speaking of that, you added something like 20 pounds of muscle this offseason. What was the reasoning behind that? Was that more geared toward being able to battle in the post a little bit more?
Yeah, that was the main reason. I think that's better than to have to add weight, but I just want to get a lot stronger to improve on my rookie year. I think I accomplished that. Yeah, I added 17 pounds, I think. It's gone down a little bit maybe. The trick is to try and get around, maybe around 116, 117 pounds.
Coming off such a strong rookie season, what do you think is gonna be the biggest challenge for you having to wait a little bit longer to get started on this coming season?
It was such a long offseason. We didn't play basketball in what, five and a half months? So it's more mental, and I know that I was ready to play, and now it's getting ready whenever my time comes to play. I think it's mental. It was disappointing for me then, it is even now just to watch games on TV and watch every game at practice. That's the toughest part. I would love to be there for my teammates.
The way the league has evolved, players at your size have to be more versatile, have to be able to put the ball on the floor, shoot from the outside, defend multiple positions. How early did you realize that you were gonna have to develop a wider skillset if you were going to make it to the league?
For me, that's been emphasized my whole life because I think that when I was growing up that's what made me different from the other guys. I was taller, and I was still playing point guard, and throwing the ball, defending point guards, the wing stuff. I really didn't concentrate on that because I always think like that. I think that's one of the reasons I'm at this point, and I think it's a really good time [for players like me].
Was there a particular player you looked at to model your game after, or someone you wanted to emulate a little bit?
There's been multiple, obviously, people comparing me to Dirk, but I actually watched some of his film and tried to learn the footwork, and do such unstoppable footwork. Just with his footwork and just a good shooter, so he's definitely one of them, but then obviously, I didn't have too much time, or spending TV time watching games when I was growing up. So it's mostly like YouTube stuff.
At the time, I played the guard position anyways. I mean, got to pick up from LeBron and those guys, watched Kobe Bryant, but I've never really had a chance to watch real-time games.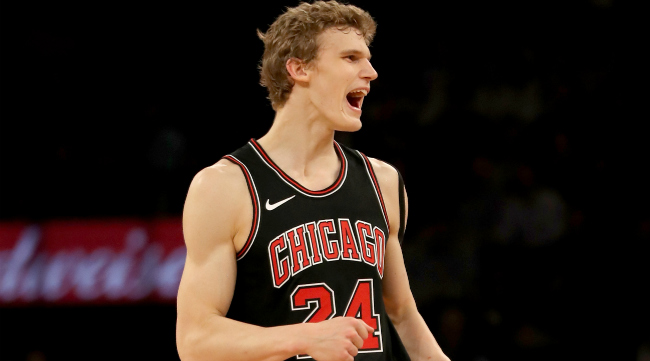 The Bulls this year are definitely in transition. Zach Lavine is gonna be coming back, hopefully fully healthy. You add Jabari Parker in the off-season, draft Wendell Carter Jr., so there's still a lot of dynamics that seem like they're gonna have to be worked out. But the East is a little more wide open now with LeBron gone, so where do you see the ceiling for this team? What do you think makes a successful season?
I mean, I think our team chemistry is good, and we love to hang around with each other. I think that's going to be one of our strengths, but we're such a tight group and obviously, we have to learn how to play together and with whatever you got. But we have a young squad with good vets, and we have really good talent with the young guys.
And not just the starters, but building up the vets too, I think we have a lot of talent. We just have to work on it every day, and I think we've already made strides. So we're in the right direction, so I think we're definitely trying to make the playoffs. I mean, I heard it's pretty different to be playing in the playoffs. I just want to play there. I definitely want to get there for sure.
Your coach, Fred Hoiberg, has said continually that he wants you guys to push the pace again this season. I believe he said the goal is 100 possessions per game, something like that. What do you think will be the key for success in term of trying to play at a faster tempo?
Like I said, we have a young squad and a lot of talent. I think we have a lot of guys that are actually out there, it's not their biggest strength, but one of their biggest strengths is being able to transition, like Jabari and Zach. I mean, I guess that we have a young group, so we should be able to be in great shape and run all night long for days. I think that's what separates us. We have a lot of athletic, young guys.
You come from a family of pro-athletes. Your mom and dad both played basketball professionally, your brother is a soccer player. Can you just talk a little bit about what it was like growing up in that household? Was everyone competitive about everything growing up, and how did your family push each other to excel in terms of sports?
Yeah. Neither of my parents, even though they were professional basketball players, but they never just forced me to play basketball. I played multiple sports. I tried hockey. I played soccer for eight years. But they didn't force me to do anything. Difference was, I had some older brothers, obviously, my oldest brother is a football player. But I have another older brother who played professional basketball, which is four years older than me. So I was the youngest kid, and we were really competitive, every one of us. It didn't matter if it was sports, eating, whatever, but we were competing against each other. I wanted, obviously, to beat my older brothers, and they didn't let me, so I think that's what pushed me.
Do you still get a chance to play against them sometimes, and now that you're in the NBA, and where you're at, do you get lord it over them a little bit now?
Every now and then during the summertime, like a friendly brotherly matches. I try to challenge them every once in a while, but I mean, they're pretty strong too, so we have a good time.