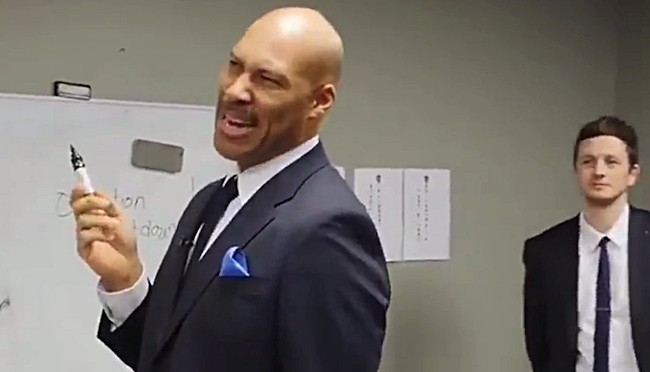 We probably should've seen it coming when the first game the younger Ball brothers played in Lithuania featured a court adorned with Big Baller Brand logos and even the referees had BBB on the back of their shirts, but somehow LaVar Ball already becoming the head coach of LiAngelo and LaMelo's team came as a bit of a surprise.
It's important to note Ball has become the head coach of the lower level team playing in the Big Baller Brand Challenge games against other youth teams and not the coach of the team in the upper level. That said, it's still a bit bizarre to see LaVar prowling the sidelines in a suit, barking orders and drawing up plays.
Ball served as assistant coach in their last game and after the two brothers dropped 80 points combined he was promoted to head coach on Sunday for their next game. This meant the Ball family patriarch was able to give the pregame pep talk in the locker room, in which he called for "Operation Beatdown" and for the team to play fast and "whoop their ass."

It's about what you'd expect from LaVar in a pregame speech. Once on the court, LaVar was animated when complaining to the referees but avoided any major incidents, which I guess is a good thing.
He did claim before the game that the plan for his sons was to have LaMelo stay in Lithuania for a couple of years, while LiAngelo will be "one and done" overseas and will be on the Lakers next season.
Magic Johnson might have different feelings on that, but we'll find out this summer.