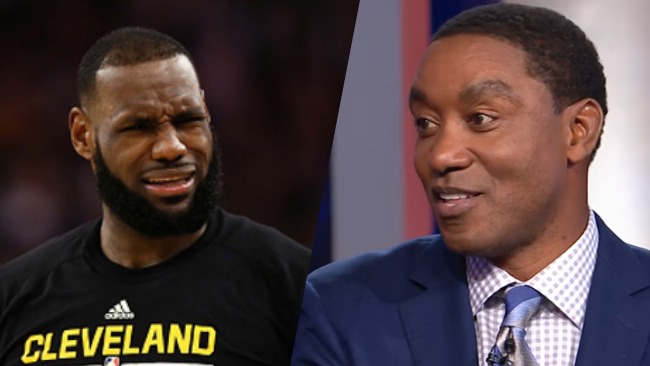 Somehow the biggest feud of this NBA season isn't Kevin Durant vs. Russell Westbrook or the Cavaliers vs. the Warriors. It's not even the NBA's stars vs. Donald Trump. All we can talk about right now is the "war of words" between LeBron James and Charles Barkley, which has me thinking that maybe Isiah Thomas was right with his theory that today's players need to hate each other more.
But hey, it's still a pretty big thing when the greatest basketball player in the world pulls a Hank Scorpio on a beloved and/or loathed NBA legend, so it's crucial that we bring in another hated legend to offer his two cents.
That legend is once again Thomas, who put his damn foot down and told us, once and for all, which of these grown men is right: Both of them! Kind of!
They both are right about what they said about each other. A little bit. I don't agree with what Chuck said in terms of them having the best players. Because when you won a championship – and this is where LeBron James is coming from, and this is where I don't think Charles can understand where he's coming from – when you're at the top of the mountain, and you've won championships in this league, and you're trying to repeat again, when you're trying to repeat, you've gotta get better. Your team has to add another player. Golden State went out and added Kevin Durant. San Antonio, their younger players have gotten better.
James' bottom line, Zeke said, is that he needs help.
"He sounded the alarm," the Pistons great continued, as if it's a revelation that the team that brought in the best waiver wire picks from your 2013-14 fantasy basketball season for tryouts on Wednesday is desperate. And as Steve Smith pointed out, James' reaction to Barkley's criticism was just a "long time coming," which is why it was so fiercely personal.
Still, leave it to Thomas, the guy who says today's NBA needs to be filled with "real hate," to take the most subtle jab at Barkley's legacy. Never change, Zeke.