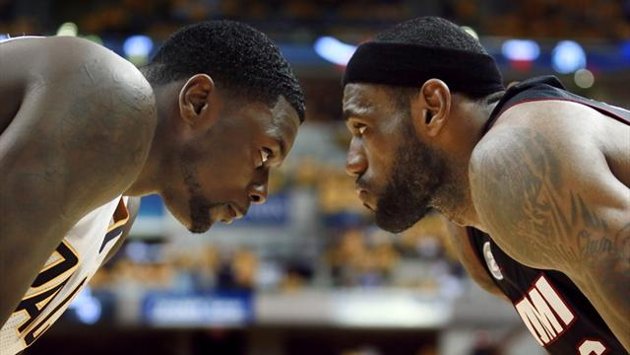 It's hard to believe it's been almost three years since Lance Stephenson gave us one of the all-time greatest sports memes. Even LeBron James laughed when Stephenson blew in his ear during Game 5 of the 2014 Eastern Conference Finals, because it was one of the weirdest moments in recent NBA history. And while the Pacers eventually lost the ECF to James' Heat in Game in Game 6, Stephenson made a name for himself as a guy who would do whatever it takes to get under the skin of the best player in the game.
He also played some decent basketball on occasion, which is why the Cavaliers are willing to look past the whole blowing incident and bring him in for a workout on Wednesday. After all, they need someone who can help stop their own recent struggles with blowing, so they're hoping that Stephenson, Jordan Farmar, Krik Hinrich, or Mario Chalmers will provide much-needed playmaking off the bench, so Charles Barkley and Bill Simmons will stop talking about how whiny James has been lately.
As for the guys coming in, James doesn't care if it's the kid who stole his lunch money in elementary school. He appreciates that his franchise is simply trying.
"I got a history with all those guys except Jordan," James said after shootaround Wednesday, as the Cavs prepared for their game against the Minnesota Timberwolves. "I got a history with Lance too, obviously. I got a history versus Kirk. I played him in a lot of playoff series. And I got a history with Rio [Chalmers]. … At the end of the day, Rio is recovering from his Achilles tear. I hope he's been doing everything he needs to do just to get back on the floor. He loves to play the game.

"I'm a supporter of what this franchise wants to do, no matter what it's doing. But my focus right now is to get our guys playing championship-level basketball." (Via ESPN)
But LeBron, you're cool with the Cavs signing Lance Stephenson? The guy that got his bad breath all up in your face?
"I just want to win, man," James said. "That's all that matters to me. I got no personal problems with nobody."
I don't know, Cavs. This has Jack Donaghy hiring Devon Banks written all over it. The silver lining is that Stephenson is still only 26-years-old, and he flashed potential in three of the six games he played for the Pelicans this season. Might be time to put this bad breath under the bridge.