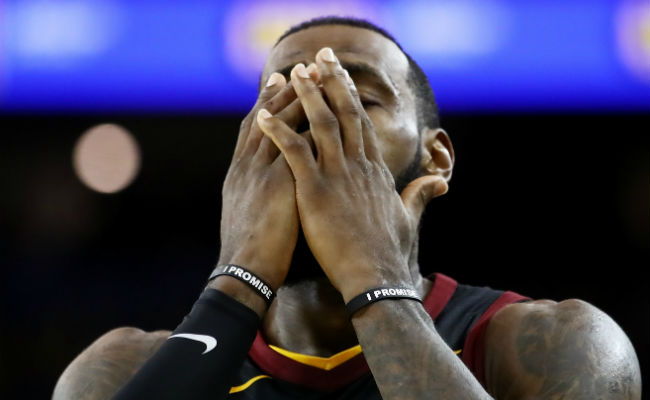 LeBron James and the Cleveland Cavaliers fell short in Game 1 of the NBA Finals after a gaffe by J.R. Smith in the closing seconds of regulation. Smith grabbed an offensive rebound after a missed free throw and sprinted away from everyone else on the court, seemingly assuming that the Cavaliers had the lead and would win if the clock expired.
It was mistake amplified by the fact that the Cavaliers had a timeout they could have used to stop the clock and reset on an inbound play. But Cavs head coach Ty Lue didn't use it, and some players on the court didn't even realize they could have stopped play, including LeBron James.
New video surfaced on Sunday that showed James on the bench between the fourth quarter and overtime, being told that the team did have a timeout it could have used. James, sitting in disbelief for a while, becomes visibly upset that something could have been done to stop Smith's meltdown.
https://www.instagram.com/p/BjmtSEQHR7O/?hl=en&taken-by=dimemagazine
The worst part of it all is that everyone on the bench knew it was over right there. Despite the tie and a chance to win in overtime, the air was out of the balloon. The Warriors got lucky, but everyone knew they could take advantage in overtime and they did just that.
The full video is even more brutal given the buildup. The team seems stunned to still be sitting there, and few words are exchanged until James asked about the timeout situation.
It's footage that only gets sadder for James and Cavaliers fans now that they're down 2-0 in the series. Going back to Cleveland tied is very different, and teams that win the first two games of the Finals win the series 88 percent of the time. It's going to be a long road for the Cavs if they want to make the series last longer than this week, but it's clear the iconic moment of the showdown may have already happened.