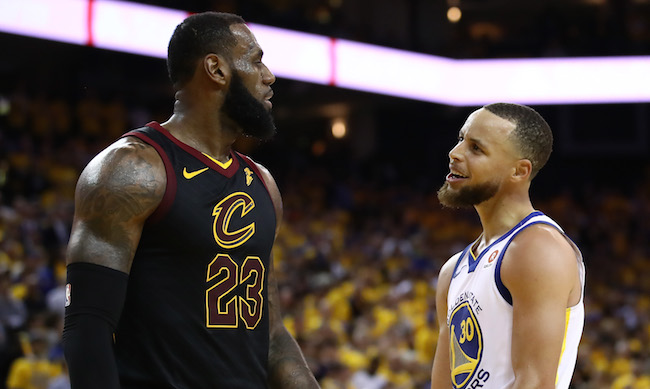 Game 1 of the 2018 NBA Finals followed a blueprint many expected to occur over the course of the series. LeBron James played out of his mind, with the best basketball player in the world having the most prolific scoring output of his NBA Finals career. But in the end, it was not enough, as the Golden State Warriors came out on top in overtime, 124-114.
The crazy thing was that the Cavaliers — viewed as being overmatched against the Warriors, especially at Oracle Arena — had their shar of chances to get the win. The door was open for Cleveland to steal Game 1 and snatch home court advantage from their rivals, as the Cavaliers always seemed to have an answer when Golden State looked like it was about to rev its engines and make this game a blowout.
The thing is, Cleveland has LeBron By God James, who put forth a masterpiece. His 51(!!!) points were an NBA Finals career high. He achieved that on 19-for-32 shooting from the field, and chipped in eight assists and eight rebounds for good measure. It was the most immense game we've seen out of him in the NBA Finals, which for LeBron James says a lot.
https://twitter.com/cavs/status/1002384162869862400
However, it did not matter. Part of this was because of his teammates — Kevin Love had 21 points and 14 rebounds but went 1-for-8 from three. Only J.R. Smith, who had 10 points, joined his teammates in double-digit scoring, while Larry Nance (nine points and 11 rebounds off the bench) came close.
Smith also was at the center of what was, quite possibly, the most boneheaded play in NBA Finals history. George Hill was at the line late for two free throws, making the first and missing the second to tie things up at 107. Smith grabbed the rebound, but instead of calling Cleveland's remaining time out or passing the ball to James, he dribbled out the clock, ostensibly thinking the Cavaliers were ahead.

It was an absolutely stunning moment for all the wrong reasons, especially because while this singlehandedly didn't cost Cleveland the game, it might have been the death knell — this led to overtime, in which the Warriors outscored the Cavs, 17-7. Steve Kerr couldn't believe what happened, either.
There was still plenty of controversy leading up to this moment, though, namely on an overturned charge call against James that led to Kevin Durant getting a pair of free throws to tie things up.
Amid the confusion of what happened — no one seemed to be aware that you could overturn a block/charge call late in a game — here's what the NBA rulebook says about reviewing these incidents.

The officials did not look at whether James was in the restricted area — he was clearly outside — but rather, they looked at their charge call and determined it was, instead, a block, which ESPN's Brian Windhorst reminded us all is something they can do.
But still, bad calls happen both ways, and Cleveland was unable to overcome the ones called against them. At the end of the game, tensions between the two teams boiled over. First, James blocked a Curry layup attempt, which led to some jawing. That was followed by Tristan Thompson getting tossed for a foul against Shaun Livingston, a sequence that was followed by some pushing and shoving between the teams that led to Draymond Green getting the boot.
https://twitter.com/DimeUPROXX/status/1002396704652455938
While the Cavaliers leaned heavily on James, the Warriors were able to spread out their attack a little more. Curry led the charge with 29 points, nine assists, and six rebounds. Durant, meanwhile, went for 26 points, nine boards, six dimes, and a trio of blocks. Klay Thompson had 24 points, featuring a 5-for-10 clip from downtown, while Green did a little of everything, accruing 13 points, 11 rebounds, nine assists, five steals, and three blocks.
Both teams will have a few days to cool off after this hotly-contested contest, as Game 2 isn't until Sunday night. But through one game, we've been reminded why these two teams have met up in the Finals for each of the last four years, why the Warriors have earned the title of the best team in the league, why James may be the best player ever, why NBA officiating is so controversial, why Smith's reputation for cringeworthy moments can hurt the Cavaliers, and that these two teams really don't like one another. Who said this series was going to be boring?