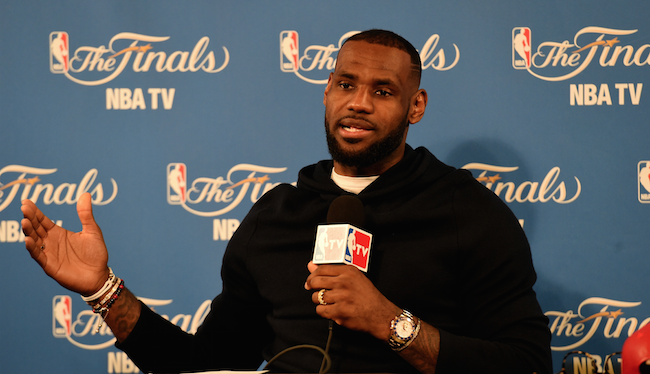 Other than LeBron James escaping his crash into a courtside camera without any significant injuries, the most fortunate takeaway from it is that social media didn't use so many close-ups of the four-time MVPs head to poke fun at his hairline. The public has been infatuated with James' hair for years; it was a minor miracle, frankly, that it didn't become a major topic of conversation during Thursday's Game 4.
But a story on James' personal barber published one day later made sure that the 30-year-old's hair would at least have some time in the spotlight during the NBA Finals.
Yahoo Sports' Marc Spears profiled the journey of James' personal barber, Nick Castemanos. There are several interesting anecdotes here, chief among them that the Cleveland Cavaliers superstar offered the Miami native a full-time job in Northeast Ohio upon his decision to return last summer. More are that Castemanos calls James his "toughest client" and has cut the hair of every Cavalier but Matthew Dellavedova and Joe Harris.
Easily the most important factoid from Spears' story, though? Castemanos' claim that James' hair is all natural.
"There is no dye. No additives. No preservatives," Castemanos told Yahoo Sports in a phone interview Thursday. "Everyone thinks he's dying his hair using [temporary hair colorings] Bigen or Black Ice. It's all his hair. They still don't believe me. I get Bigen comments all the time.

"I've become numb to it. It used to bother me. It's not easy to hear that."
There you have it, folks. James' hair is all natural; would his barber really put his reputation at stake by lying? It's not like the two-time champion has ever looked like Carlos Boozer did a few years ago, either.
Having said that, there was something awfully fishy going on last September – and is sure to stoke the social media fire again soon enough. Remember when James showed up to the unveiling of his new signature sneaker with maximum coverage? His look is similar in this Sprite commercial shot just a few days prior.
And as a new trailer for his upcoming film Trainwreck makes abundantly clear, James indeed got an artificial touch-up at some point during the offseason. He doesn't exactly look like this now, right? Just sayin'.
[Via Yahoo Sports]