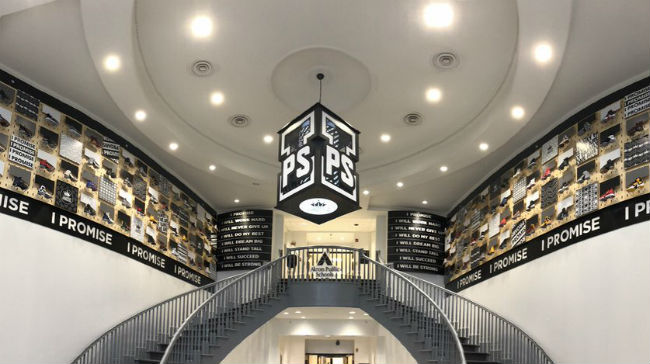 LeBron James is committed to helping the people of Akron no matter where he plays basketball, and one of his biggest achievements officially became a reality on Monday. The I Promise School opened in Akron on Monday, with the first students walking through the doors for the start of the public elementary school's inaugural school year.
James helped open the public school by funding it through the LeBron James Family Foundation, helping provide funding for the construction and management of the school. According to the Los Angeles Times, the I Promise school is an Akron public school for 240 at-risk third- and fourth-graders that offers a special level of support and education.
The school provides services to help the kids handle trauma, stress from parents struggling to make ends meet and trouble that comes from too much free time and too little supervision. It also provides job and family services for the children's parents to help them get GEDs or handle unexpected job loss. The school has a pantry with donations from a food bank, where parents can choose foods to prepare for their families.

Every student will get a bicycle because bicycles helped James get away from the more dangerous parts of his community while growing up.
The school is state of the art, and the school's entryway features 114 of game-worn shoes from James' career, with the matching pair available for auction to help fund the school.

The school also features some impressive artwork.
James spoke about the school in a video posted on Sunday where he also spoke for the first time about his decision to join the Los Angeles Lakers.
"I know these kids, basically more than they know themselves. I've walked these same streets. I've rode the same bikes on the streets they ride on. I went through the same emotions — the good, the bad, the adversity. Everything these kids are going through — the drugs, the violence, the guns, everything they're going through as kids, I know. For me to be in a position where I have the resources, the finance, the people, the structure and the city around me — why not?"
James also spoke about the significance of opening the school on Sunday, comparing the emotions to pre-game jitters.

It seems like things went well on their first day, though, and there are plenty of kids in Akron actually excited about going to school.