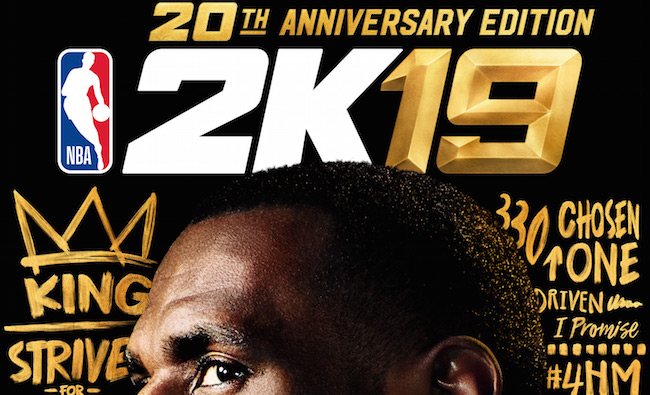 NBA 2K19 will be the 20th installment of the basketball video game franchise, and to celebrate, the folks at 2K Sports went out and got the player that has defined the past two decades to be on the cover.
LeBron James will grace the cover of the 20th Anniversary Edition, which will drop on September 7, four days before the wide release of NBA 2K19 on September 11. The announcement was made on Tuesday morning in a video that features 2 Chainz, Rapsody, and Jerreau performing a tribute to James' incredible career so far.

The 20th Anniversary Edition will cost $99.99 and be available on XBox One, PlayStation 4, Nintendo Switch, and PC. The game will come loaded with digital bonuses including 100,000 Virtual Currency, 50,000 MyTEAM points, 20 MyTEAM league packs, Sapphire LeBron James MyTEAM card, 10 MyTEAM Heat Check packs, 5 LeBron-themed murals for MyCOURT, and the King's Collection, with Nike LeBron apparel and 25 pairs of LeBron sneakers for your MyPLAYER. It will also come with a physical LeBron poster, wristband, and sticker sheet.
The Standard Edition will drop four days later for $59.99 across all platforms, with NBA 2K19: The Prelude dropping on 8/31 for players looking to get an early start on their MyCAREER. You can see the full cover featuring LeBron and the various phrases that have defined his career below.