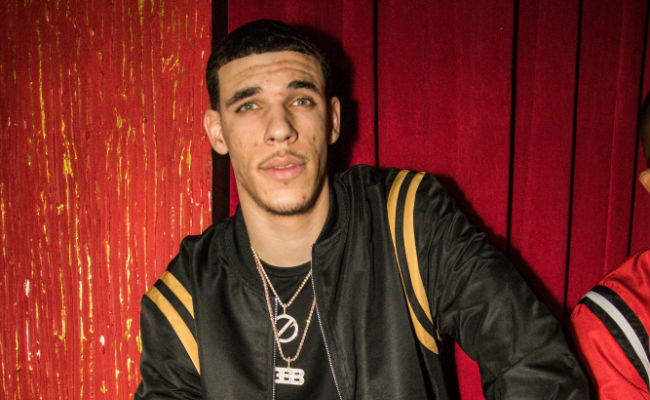 Lonzo Ball's time in the NBA has been inseparably tied to Big Baller Brand, the company started by his father, LaVar Ball. The nascent sportswear and shoe brand gave the UCLA standout his first signature shoe.
But there seems to be trouble in Big Baller land, and Lonzo is pushing out at least one of the brand's founding members.

According to ESPN's Ramona Shelburne and Paula Lavigne, the only Ball currently in the NBA is cutting ties with Alan Foster, who currently owns a portion of Big Baller Brand and is a friend of LaVar Ball.
Ball told ESPN that he believes that Alan Foster, a friend of Lonzo's father for almost a decade who owns 16.3 percent of Big Baller Brand, had "used his access to my business and personal finances to enrich himself. As a result, I have decided to sever all ties with Alan, effective immediately."
ESPN's reporting says that Foster was influential in convincing Ball to start Big Baller Brand and make a signature shoe for Ball and his brothers, a move that made considerable waves in basketball and apparel circles. But both Lonzo and LaVar told ESPN that they feel Foster had not handled the family's business interests correctly since Lonzo was drafted by the Los Angeles Lakers and the family's fame grew.
The report cites documents that indicate a financial advisor, Humble Lukanga of Life Line Financial Group, raised questions about Foster's business practices, namely $1.5 million in missing funds that made the advisor unable to file taxes for the Balls.
It wasn't until this week, the same sources said, that LaVar fully reviewed the email warnings and documents from Lukanga, as he had been traveling overseas with his younger sons in the fall. The sources described LaVar as "stunned" when the emails and documents were read to him. LaVar declined comment but issued a statement to ESPN calling the situation "devastating."

"I've always believed in the best in people. Regretfully, I put my complete trust in Alan Foster to manage my son's business affairs," LaVar said. "At the end of the day, family comes first, and I support Zo wholeheartedly. Together, we will make this right."
The report is interesting for a number of reasons. One that will be likely lost in the story is that Lonzo, not his father, owns the majority share of Big Baller Brand. According to ESPN, the Lakers guard owns 50.1 percent, while LaVar owns 16.4 percent of the company. Foster and Lonzo's mother then owned 16.3 percent each, though it's unclear what will happen to Foster's share in the wake of this dismissal.
Another interesting angle is Foster's past legal troubles, which ESPN actually informed Lonzo of during an interview in recent weeks. According to Ball, he was unaware of his past.
Two weeks ago, in an interview with Lonzo that covered various on- and off-court topics, an ESPN reporter asked him questions about the status of Big Baller Brand and also whether he had been aware that Foster had a prior criminal record that involved financial misdeeds. In 2002, Foster was sentenced to more than seven years in prison after pleading guilty to one count of mail fraud and two counts of money laundering as part of a scheme that defrauded 70 investors of $4 million, according to federal court records obtained by ESPN. Foster was also ordered to pay $3.7 million in restitution to victims.
The story also details some frantic emails about the missing money that Foster is alleged to have lost. It also notes that Lonzo made the decision to cut ties with Foster without the guidance of his father. It's a fascinating look at the inner workings of Big Baller Brand, and a sad note in the company's history. It's clear that the Balls trusted Foster, and something definitely went wrong over the last few years.