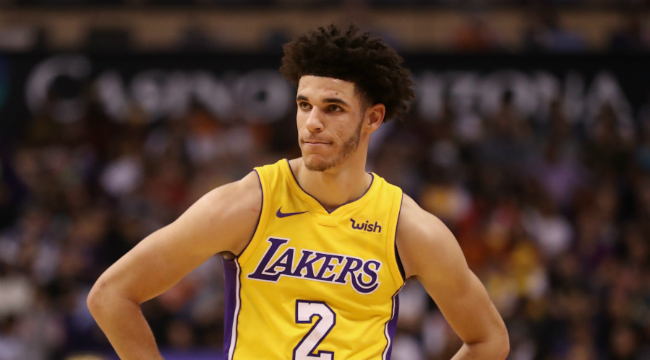 While his father LaVar is feuding with the President of the United States and his younger brother LiAngelo is laying low after getting arrested in China for shoplifting, Lonzo Ball is trying to make it through his first season in the NBA as the starting point guard for the Los Angeles Lakers. Family distractions aside, Lonzo has had a rough first month of his NBA career.
Through November 19th, Lonzo is averaging 8.9 points, 7.1 assists, and 7.1 rebounds per game on just .313 shooting from the field. His raw numbers aren't terrible, particularly his ability to fill up the scoresheet with rebounds, assists, and steals, but his shooting has been absolutely dreadful and now it appears as though he's caught up in a little bit of controversy of his own.
Founder of Jumpball.net and former video coordinator for Clippers and Spurs, Mo Dakhil, released a reel of Lonzo Ball's assists on Monday afternoon. The footage shows a pair of assists Ball received credit for on the scoresheet despite the fact that the players he passed the ball to made significant basketball moves before scoring the ball.
https://twitter.com/MoDakhil_NBA/status/932653392685441024
While those cherry-picked Lonzo Ball assists certainly look fishy, this would hardly be the first time home-team scorers gave their players the benefit of the doubt on something like this. In 2009, Deadspin ran an article titled The Confessions Of An NBA Scorekeeper that detailed just how prevalent this kind of behavior is from home team scorers.
The truth is, the NBA rulebook is incredibly vague when it comes to charting something like an assist. The NBA's company line on assists has always been "a pass that directly leads to a basket." At that point, though, it's left up to the official scorer to determine if a pass leads to a basket.
In direct response to the Lonzo Ball video above, a former member of the Portland Trail Blazers scouting team admitted that he would have counted those questionable plays as assists for Lonzo. In other words, Blazers scouts would have scored them the same way the Lakers did.
In the court of common sense, it's pretty clear that these particular examples don't look like assists. With that being said, this isn't Lonzo Ball's doing. This is on the Lakers scorekeeper, if anyone, and it's a borderline guarantee that you'd find similar footage for most point guards around the league. Would this be a story if it wasn't Lonzo Ball? Probably not.