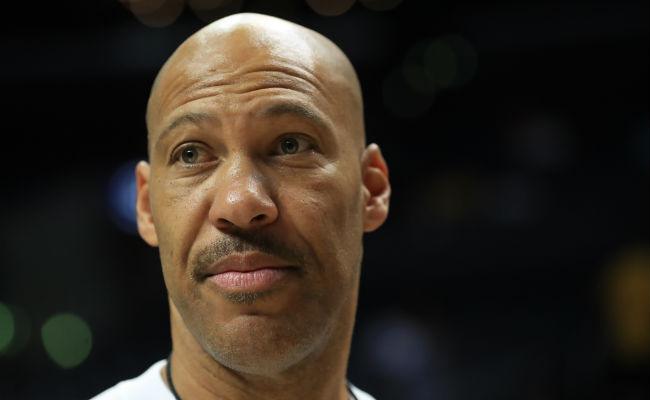 It's rare that LaVar Ball is not trying to make to make a big deal out of something, but the international arrest of his middle child appears to be one of those things.
A subdued Ball spoke briefly early Wednesday about the arrest of his son LiAngelo in China on Tuesday, as he was one of three UCLA men's basketball players to be detained by Chinese authorities.
Despite reports that LiAngelo could face up to 10 years in prison, LaVar was subdued when he spoke to ESPN's Arash Markazi, insisting his son will "be fine" but being uncharacteristically cautious with his words.
https://twitter.com/ArashMarkazi/status/928135713614385152
"I'm going to wait until I get more intel on what's going on" Ball said before addressing the arrest. Yahoo Sports reported that the three UCLA players reportedly shoplifted from a Louis Vuitton boutique near the team's hotel.
"He'll be fine," Ball said. "Everyone's making it a big deal. It ain't that big a deal."
Hours after LaVar spoke to the media, LiAngelo and his teammates were finally released by police. But they will have to remain in China while the legal mess is sorted out.
Ball, Riley and Hill were released around 4 a.m. Wednesday and were staying at a luxury hotel in Hangzhou along with a UCLA representative, according to a source. They are being required by Hangzhou police to remain at the hotel until the legal process is over, the source said.

Alford rejoined the rest of UCLA's team in Shanghai on Wednesday morning after the players were released. The coach said the three players involved would not play against Georgia Tech and referred to a previous statement released by the school.
The story notes that LaVar was expected to speak to the wider media with the team in China but later declined after his legal council told him not to "due to the legal nature of the matter." If anything, his reticence should speak to the seriousness of the matter. Since rising to his role of most famous basketball father, there's little LaVar Ball refused to talk about over the last year.
Clearly, this is different.