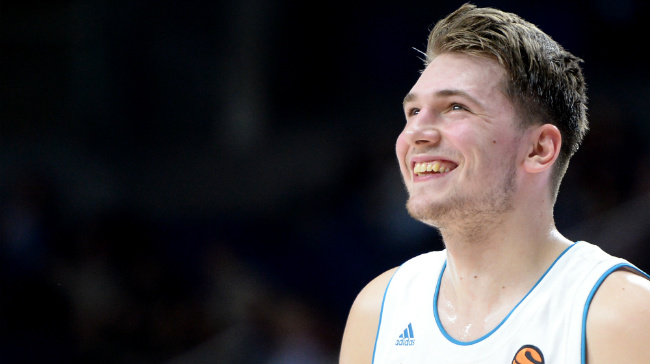 The NBA Draft is a risky venture, as you're basing your franchise's future on the hopes that someone that's 19 or 20 years old will be capable of fully tapping into their potential. No matter the player's pedigree, there's never a completely sure thing. With European and foreign born players, there's an added stigma and bad selections are held against teams moreso than busts out of college. For every success story like Kristaps Porzingis, an Andrea Bargnani is brought up as a cautionary tale.
Luka Doncic, arguably the most decorated European prospect in recent memory, has seen similar draft question marks arise throughout his career. The Slovenian, who's listed at 6'8 and around 220 pounds, is only 19 years old and already has a FIBA intercontinental cup, Euroleague championship, Euroleague MVP and Final-Four MVP, two Liga ACB championships, and about a half-dozen other accomplishments. Essentially, no 19-year old in the history of the game had as much professional success as he had, and it's not even really close. And yet, as we've gotten closer to the Draft, it seems the questions have become even bigger concerns, creating an extremely polarizing debate in regards to where he should and could be drafted.
Most media have him pegged at going in between No. 1 and No. 3 in the 2018 NBA Draft, but as we've gotten closer to the NBA's most interesting offseason event, we've witnessed him slip a bit down Draft boards.
It's clear that Euroleague and the first division in European leagues, where Doncic plays, is better competition than the NCAA. He's obviously got more professional experience (he's played professionally since he was 16) than any of the NCAA prospects. Throw in the fact that he's also performing admirably at that higher level, averaging over 16 points, four rebounds and four assists in Euroleague, and there really shouldn't be much debate as to where he should go. But, teams are apparently still gun shy on drafting him.
Doncic doesn't have athleticism that'll blow you away, and while he's a decent shooter, questions about his ability to replicate and improve those things in the NBA are reasons to be a little scared, especially if you're a team who just saw a physical specimen like Mo Bamba or DeAndre Ayton work out in person for you. In previous years, the high-level European prospects compared to the NCAA prospects have always been seen as the bigger gamble. However, with Doncic, it feels like it's the opposite. His ceiling may very well be lower than a seven-foot big-man who could stretch the floor, but his floor seems extremely high.
Even with all the intel, game tape, rumors and opinions, we wanted to get a better understanding of how others viewed Doncic as a talent. So we decided to ask some of Doncic's peers and opposition about what they thought of his NBA outlook and his game overall. Here's what they said.
Errick McCollum, Anadolu Efes of the Turkish Basketball Super League: "He's a good player, special for his age. He's got NBA size and body (needs to tone it and get some of the baby fat off) but he's got a great feel for the game. He's a good passer and pick-and-roll player, good rebounder and solid shooter. But, he's not that athletic or explosive and he'll have issues defending in the league and consistently creating space on his shot. But he is crafty and should thrive in pick-and-roll and the uptempo game.
I think he will have a good rookie year. I'd guess 12-14 points, four rebounds, and four assists per game. He can do a little of everything. He can't play point guard in the league because he's not athletic enough, he's a wing. His pick-and-roll ability, pace, change of speed, high IQ and size will be excellent for the league. Obviously, he was playing against professionals, so this is better competition than summer league and all those things. He's ready, I just wouldn't say he's Dirk, Pau or Marc like they are trying to say. It's easier for euro bigs to adjust (to the NBA) than guards. It's just easier overseas because if you're 6'6-6'8 and you can dribble, shoot, play iso, and play pick-and-roll (like he can) you're already in the NBA. So there aren't a lot of teams that can matchup with his size in Europe. I've seen what happens to him when he goes against players his height or close-to who are athletic. He struggles mightily. Go check the film in Panathinaikos series. He was struggling to create space, to get the team in the offense comfortably, and to create shots, and get by guys. Granted Panathinaikos is the most athletic team in Euroleague, but that's kind of athleticism he will see in NBA.
But he'll be a very good professional, he's ready and he will make an impact as a rookie. I feel like he caps out at 18 points per game, which is excellent in the NBA. It's just not a superstar or a guaranteed all-star every year. I feel like if you're picking at one, you're drafting a player to be a number one option, a franchise changer. And he is really good, but if he's your best player on a team in the NBA, you won't be a contender. If he's your 2nd best player, your team will fight for playoffs and if he's your 3rd option, I think that team is really good. I see a solid career and good player who can have success in league but he's probably not the guy that can change the course of a franchise."
John Jenkins, San Pablo Burgos in the Spanish League ACB: "Unfortunately, I didn't get to play against him this season. But, this league (ACB) and Euroleague is no joke. To do what he is doing is big time at his age. I think as far as being mentally and probably even physically ready for the league, he has the advantage. He has been playing against grown men, many of them with league experience and has more than handled his own. He may not be as athletic as some of the guys coming out of college but he has the advantage playing in Europe and I also think he will end up playing 60 plus games this season. So his adjustment to an NBA schedule may be easier.
But man, there are some talented guys in this draft. I️t all depends on where you go and the role you will have. From what I've seen, he is great in pick and rolls, makes good reads, and he's a very good playmaker overall. He has a nice shot and I think he will become an even better shooter in the NBA. For every GM, I think it's tough to pass on a big man like Ayton. I honestly don't know about taking him No. 1. Him and Book could work in Phoenix, but I haven't seen Luka play off the ball much and he would be doing that more than he ever has playing in Phoenix. I think either one you get is going to help your team from day one. After his season in Europe, it makes total sense for him to go No. 1 though."
Jason Thompson, Fenerbahce in the Turkish Super League: "I think he can be a real good player in the league. With time and the right coach, I think he can be a star. But, it's going to take time. At his age, he's great. He's not that athletic, but he can pass and score well. It really depends on what team drafts him (in order to see what he ends up like in the NBA). He can get to the rim well and when you're game planning for him, you want him to shoot. But, that's like a lot of young guys in the NBA."
Dylan Ennis, Tecnyconta Zaragoza in the Liga ACB: "He was a great player. He really knows the game, has a natural feel and is mature beyond his years. Going the the NBA, I think he will have to work on his explosiveness. I don't think he will ever have to be lightning fast, but getting the extra quick step will be needed against the athletic guards of the NBA. As a team, we expected him to have a good game and we knew we wouldn't hold him to zero points. We just wanted to make every possession hard on him, pressuring him and making him uncomfortable whenever we could. If I'm an NBA GM and I need a guard, he's definitely the best. But, if I need a big, then I'd choose Ayton. So it just depends on fit, but he's very talented."
Kyle Wiltjer, Olympiacos in the Greek Basket League: "He's good. What makes him special is his size at that position combined with his pace. A lot of young players play so fast and rely on athleticism but he's unique because the game slows down for him. We just tried to pressure him and make him play fast. If he keeps working hard, I could see him being a guy who not only can score, but can help run a team at the next level. He's good at getting others involved. It will be interesting to see how he translates because the NBA game is different."