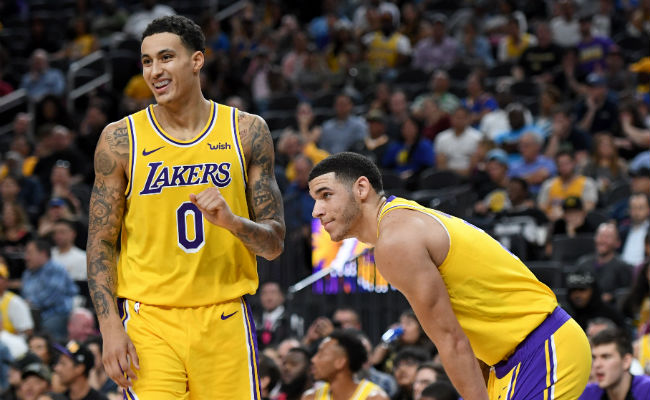 The Los Angeles Lakers, even with LeBron James, are a work in progress. Actually the Lakers are a work in progress especially with LeBron James. Signing the biggest free agent on the planet means that the expectations for a team very much in the middle of things are unrealistically high, and the players on the floor with James have to realize that the pressure is on.
For young players like Lonzo Ball and Kyle Kuzma, that means catching up on things takes time. And with all that media around, the questions will come. Lost in the fracas that marred Saturday's Lakers-Rockets game was the fact that Kuzma struggled mightily against Houston.
On Sunday, after all the Chris Paul-Rajon Rondo drama was settled, Luke Walton was asked what Kuzma needs to do to improve defensively. And the Lakers head coach was blunt: he needs to get better.

Via Silver Screen and Roll:
"One, the technique, he's got these little happy feet. He likes to shuffle them. Two, he's got to take it personal, which I think he does, he texted me as soon as the game was over and said that will never happen again," Walton said.
Walton is being critical here, but it's a good learning moment for a young player to acknowledge that he needs to be better. Then again, he was trying to stop James Harden, the NBA MVP and a guy who has built an entire marketing campaign around how difficult he is to stop defensively.
"Part of it is he's doing a lot of things," Walton continued. "He's in his second year in the league and he's playing against the MVP. We have him switching onto the MVP of the league and we have him in a deep drop playing backup center, so he's got a lot of responsibility, but we feel like he can handle that and he'll learn, and he'll get better from that."
As Silver Screen and Roll noted, a lot of the footwork issues come from dealing with switches, something the Rockets and Harden are particularly good at. So it's all a work in progress, which is to be expected. but as the roles on this Lakers team are better defined, the fact is that expectations for Kuzma after a strong rookie year are still going to be weighty. The criticism, even from his coach, will come. Hopefully for him the progress will, too.