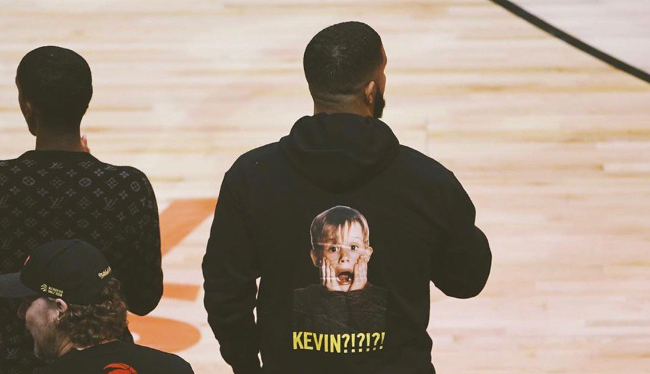 Drake took his trolling game to the next level in the NBA Finals opener in Toronto on Thursday, showing up to the arena sporting a vintage Dell Curry Raptors jersey that he apparently went through great pains to acquire just so he could get a convoluted dig in at his buddy Steph.
He was back at it in Game 2 on Sunday when arrived at ScotiaBank Arena with a Home Alone-themed hoodie that featured Macaulay Culkin's face on the back doing his signature move from the '90s comedy mega-hit. It's hard not to see this as a friendly jab at Durant's absence — and in case that wasn't clear, it reads "KEVIN?!?!?!"
But the whole gag took a surreal turn when Culkin caught wind of it and tweeted at Drake in the first half to give him a shout-out for resurrecting his career-defining turn in the Home Alone franchise.
Hey @Drake I'm right here, bro. DM me. See you at the BBQ. pic.twitter.com/GTHMKg6LWU

— Macaulay Culkin (@IncredibleCulk) June 3, 2019
Drake wasn't the only celebrity in attendance on Sunday. President Barack Obama also made an appearance wearing a sleek leather jacket, and of course, had a moment with the Raptors ambassador before tip off.
Drake has turned the volume up to 11 through the first two games of this Finals series, and there's no telling what he has in store when things shift back to the Bay Area for Games 3 and 4.