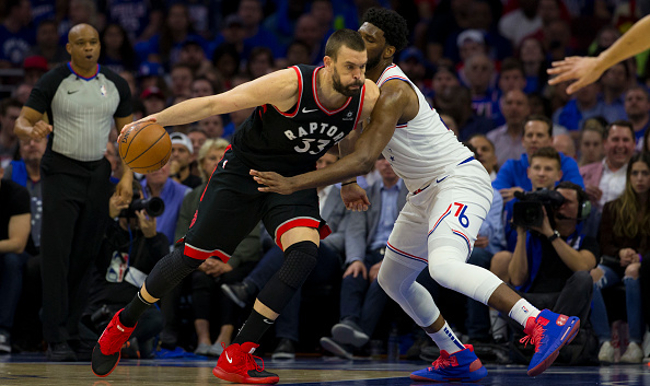 Amid all the insanity at the end of Game 7 between the Raptors and Sixers on Sunday, which ended with Kawhi Leonard's unbelievable buzzer-beater that bounced around every centimeter of the rim before finally falling through and sending Toronto to the conference finals, it was hard to take stock of everything that went down in the immediate aftermath.
First, there were the instant-classic images, whether it was Kawhi literally sitting down on the court and frozen in time as the ball hovered impossibly above the cylinder, or the astonished looks on the faces in the crowd, any of which now look like a Renaissance painting if you zoom in on them.
As the arena erupted into chaos and pandemonium, it was almost easy to miss perhaps the most touching moment of all, the image of Marc Gasol delaying his celebration so that he could console an utterly devastated Joel Embiid, the friend and opponent he'd battled fiercely against the entire series.

Of course, everyone has been dying to know what was said between the two, and Gasol recently shed some light on that now-iconic moment. Via Eric Koreen of The Athletic:
"I just told him how I felt. I care about him. As a big man, I understand what he comes from," Gasol said Wednesday morning, as the Raptors prepared for Game 1 of the Eastern Conference Final against Milwaukee. "We (used to) share the same agent. Before he even got to the NBA, he was living in his place. I heard a lot of stories about Joel growing up. I've always been a big fan of him and his personality. It's between me and him.

"Sadly in sports, you're gonna be on the losing side more than the winning side. It's just the way professional sports work. You lose more than you win. Sadly, but it's true."
More than anything, that moment was a beautiful reminder about the best and most life-affirming parts of sports and competition. The series itself was likewise a reminder of just how implacable of a defender Gasol can be when he's at his best. Toronto coach Nick Nurse can't say enough about him. Here's what he told reporters prior to Game 6 in Philadelphia.
"He's an awfully good player, we've benefited a great deal from having him here in a lot of ways," Nurse said. "I think he's certainly kind of like a captain of our defense because he's back there directing traffic, he's very smart in what he does defensively, and he's very big, and he's not afraid to bang, and all those kinds of things. And offensively, he's made us I think pass the ball a little bit more just contagiously, and he's made our team a little bit more diverse. Because again he pops, and if you want to send your doubles and he's open we want him to shoot those two, or if you want to protect the rim with your big, you kind of always have an outlet out there with him, a safe one, not only a shooting one but a guy if he wants to make the next play he can do that too. He's been a huge addition."
Gasol hasn't yet found his rhythm consistently on offense for the Raptors, but his defense, his court vision, and his all-around basketball savvy make him a big addition to Toronto as they set to take on the Bucks when Game 1 of the East Finals tips off on Wednesday in Milwaukee. More important, he happens to be a pretty decent human being.
(Via The Athletic)