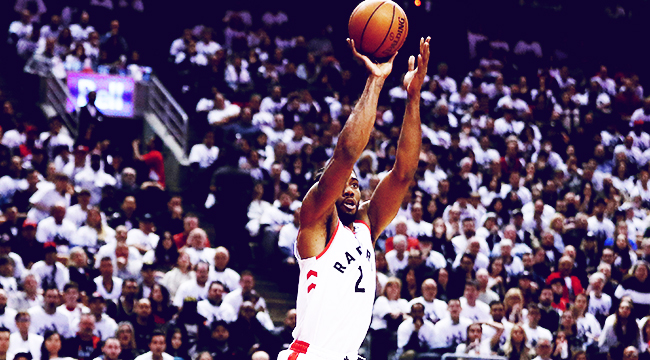 TORONTO — If catharsis could be accurately described by a noise made by 20,917 people, it'd sound exactly like this.
For the first time in NBA history, a Game 7 was decided by someone hitting a buzzer-beater. It was accomplished by a player who suits up for the Toronto Raptors, an organization that had been defined by its inability to make the shot or get the stop when the moment mattered most. And of course, the shot was hit by the guy whose singular goal was to come to Toronto and bring the Raptors to heights they had never reached in the 24 years that the franchise has been a thing.
Kawhi Leonard was asked to shoulder the hopes and dreams of an entire city, one that has had its heart ripped out over and over again whenever a modicum of success is within reach. The difference, though, is that Toronto has ever had a player quite like Kawhi.
"It was cool, all the fans, the team, everybody around, it was crazy," said Kyle Lowry, who is no stranger to being on the other side of these sorts of things. "It was a good emotional moment for everybody to be there, and just kind of sigh of relief and enjoyment, like a phew. It was great. It was one of the moments where it was a real-life game-winner, Game 7, counting down, you're back home and everybody was celebrating like that, It was a pretty awesome moment."
It's the exact sort of moment that the Raptors could have only dreamed of when they moved to acquire Leonard this past summer. It was, objectively, a gigantic risk, but the NBA is a results-oriented business, and it's awfully hard to believe the risk hasn't paid off after Leonard spent the first two rounds of the 2019 playoffs burning the cities of Orlando and Philadelphia to the ground. (You can insert a hamfisted Daenerys Targaryen joke here, but the game took place on Sunday night, which prevented the author of this post from making that reference. We sincerely apologize for this.)
Leonard has done one heck of an impression of some of the greatest wings that we've seen over the last few decades. His smothering defense, relentless offense, and ability to take over games en route to wins looks an awful lot like Kobe Bryant or, if you're really awestruck out of what we've seen out of him this postseason, Michael Jordan. Calling Leonard the best basketball player in the world is a stretch — saying that no other human on the planet is playing basketball at the level we've seen out of Leonard over the last month or so is not.
https://twitter.com/Raptors/status/1127945477968814081
This all came to a head in Game 7, a virtuoso performance from a player who knows what it takes to bring a championship to the 6. Leonard had to go above and beyond to lead Toronto to a win, scoring 41 points on a career-high 39 attempts from the field. It wasn't always pretty — only 16 of those 39 attempts went in — but seeing as how he put the Raptors on his back and hit the one that mattered the most, it's hard to complain about his lack of efficiency.
"I knew it was Game 7, I didn't want to leave no shots in my mind," Leonard said. "I just wanted to go out and leave it all on the floor. This could have been my last game for the season and I would have had to wait four or five months to put up another shot in a game, so I was gonna leave it all out on the floor tonight and not worry about makes or misses and still just try to will us to a win."
Lowry mentioned this sort of mindset existed throughout the roster on Sunday night, a "desperate" mentality given the circumstances of a win-or-go-home Game 7. Both Philadelphia and Toronto played with this mindset, the gravity of the situation lost on no one in Scotiabank Arena. Every time the game risked slipping away, the other team rallied and responded. The cycle continued unabated for 48 minutes, but it ended with Leonard hitting a historically great shot.
In a game of this magnitude, every little thing matters a little more, every possession a little more important, every situation a little more life and death. Scanning the box score, certain things stick out as being the thing that swung the game in one direction or another, most notably the relentlessness that led to the Raptors shooting 24 more shots than the Sixers. Turnovers, as they were all regular season, proved costly for Philly. Allowing offensive rebounds, an area where they excelled in 2018-19, proved even more costly.
The Raptors cleaned up their own misses 16 times on Sunday night. Those offensive boards led to 12 points for the home team. The game was decided by two points. These sorts of things, in games played so tightly between two squads as evenly-matched as you'll see, really, really matter.
"I thought there was some great determination there, I thought even when they did secure them it was a hard defensive rebound and that's a sign of how hard your team is playing," Raptors coach Nick Nurse said.
Mind you, this isn't to say the Sixers didn't play hard. Philly did everything it could to gut out what would have been a hard-earned victory, including Joel Embiid playing a career-high 45:11. No one from the City of Brotherly Love could say they had their best night, but they all left it all on the floor.

"We fought hard, everybody gave everything that they had. We could have made some more shots, but it's basketball, sometimes they fall, sometimes not," Embiid said. "I felt like everyone left everything on the court, from the coaches, to the players, to the guys in the locker room, I feel like everybody had us prepared and we gave everything."
Embiid, certainly, deserved to move onto the next round — the cruel irony of the big man playing a career-high in minutes was that Philly lost the game while he was on the bench. He was +9 on the night. In the 2:49 he rested, the Sixers, as a team, were -11.
You could sense his disappointment in his postgame press conference. It takes a whole hell of a lot for Embiid, who has embraced The Process over the course of his tenure in Philly more than anyone outside of the Rights To Ricky Sanchez guys, to straight up say, "I don't give a damn about The Process."
He couldn't resist crying on the floor and in the tunnel after the game, which marked the start of the most important offseason in recent Philadelphia history. Perhaps a coaching change is in the cards, as rumblings indicate that Brett Brown needed to at least knock off Toronto to stick around next year. Plus, Jimmy Butler and Tobias Harris both are slated to hit unrestricted free agency this summer.
Before that, there were tears shed by a player who has never been shy about wearing his emotions on his sleeve. The issue is this is a relatively new emotion for us to see out of Embiid, whose game is defined by a joy that may be unparalleled in the NBA.
"We've always got his back, we're a family," Ben Simmons said after the game. "That's my brother, I'm always here for him. But we've got to get better. At the end of the day, he was very emotional after the game and everyone is different. He's a competitor, and he wants to win, and that's what you want to see in a guy like that."
The irony of all of this — of Brown's job security, of the futures of guys like Butler and Harris being up in the air, of the re-litigation of the feasibility of the practice that led to the this roster's construction — is that Philly was still a fingertip away from moving on. Well, not a fingertip, but if the ball bounces differently on Leonard's final shot, or one turnover is turned into a crisp pass for an open three, or one Raptors offensive rebound is corralled by anyone in a red jersey, the entire complexion of the game changes, and it's possible Philadelphia is playing for the right to represent the Eastern Conference in the NBA Finals.
Their biggest issue ended up being that they didn't have Leonard, a player whose power is such that he is capable of making a city of millions believe they're beginning to outrun the ghosts that have haunted their franchise for years. Taking on a dangerous and well-rested Milwaukee Bucks side that has home court advantage is a tall task for any team, especially one like Toronto, which just took its licks in a grueling seven-game series against a squad that wanted to repeatedly punch them in the mouth.
But the Raptors took those punches, usually found a way to punch back and, in the end, were able to throw the knockout blow. The moment was so monumental that we got the two biggest rarities in basketball: the first series-winning buzzer-beater in a Game 7, and a moment of genuine emotion from Leonard. He's not a stranger to big moments, but even he got caught up in the gravity of his bucket, letting out an uncharacteristic roar and grinning from ear to ear as the ball, after a lifetime of bouncing around, finally fell through the net.
"Whenever it's, like, a moment where I haven't really experienced, I'll probably try to give some emotion, show some emotion, and let it just come out, so tonight was one of those nights," Leonard said. "I've never been in that situation before. Like you said, it's the first shot somebody hit a game winner in a Game 7, so I just showed emotion. It was great. It was a great feeling. I'm just happy that we can move on to the next round."