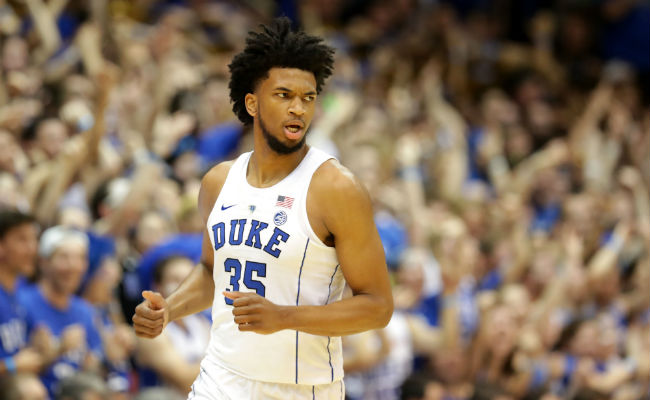 Sneaker companies are as much a part of the NBA as anything at this point. Whether it be Nike, adidas, Under Armour, or any other of a handful of other companies that produce sneakers, the NBA features a ton of jockeying among brands for the kicks on a player's feet during games.
A player's sneaker deal nets them a ton of extra cash and, if they're lucky, lead to them getting signature gear that makes them one of the faces of a brand. According to a report, despite the fact that he doesn't even know what team he's playing for yet, Marvin Bagley is about to get that opportunity with a company that wants to get into the sneaker market.
Jon Krawczynski of The Athletic reports that Bagley and Puma are on the verge of agreeing to a five-year deal. It's big for both sides — Puma because it marks a new venture for the company, Bagley because he's going to get paid.

Bagley is a really interesting basketball prospect whose scoring, rebounding, and age have led to him getting a whole lot of buzz at the top of the 2018 NBA Draft. Still, giving him a Durant-esque rookie deal is a a big swing by Puma, which might not be done trying to corner the market on picks in the upcoming draft.
Puma is known in the sports world for being the brand behind a number of soccer teams/players, golfers, and Usain Bolt. Rihanna has also created a line of Puma apparel.
At the very least, this is an ultra-ambitious move by Puma should it come to fruition, and who knows? Topping the more established brands seems like a stretch, but perhaps Puma will be able to carve out a nice little niche behind Bagley and some other young, exciting basketball players.