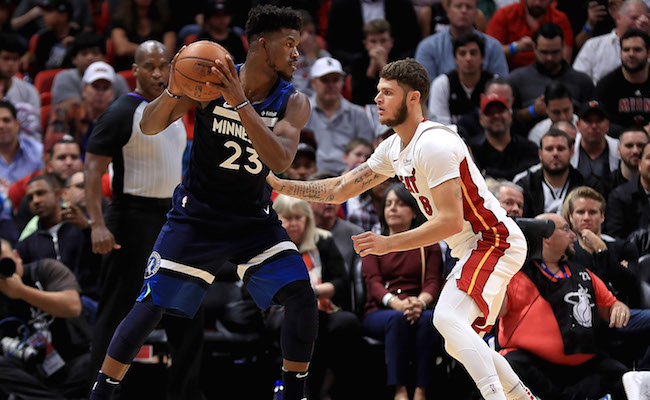 Now that owner Glen Taylor has stepped in with a mandate that the Timberwolves need to trade Jimmy Butler, and do so soon, after his trade request earlier in the week, rumors are heating up about potential trade destinations for the star guard.
On Sunday, more than 10 teams have been rumored as having interest in Butler, ranging from the expected suitors to some that raised some eyebrows. The Cavaliers, Nets, Clippers, Pistons, Heat, Rockets, Sixers, Blazers, Kings, Bucks, Wizards, and Raptors have all been noted by various reports as having some level of interest in probing for a trade.
Miami, however, appears to be an early frontrunner for Butler even though he has already made his preference of the Clippers or one of the New York teams clear. It's not a surprise that the Heat are involved, given that their roster is in need of upgrading but they have no cap space set to clear open anytime soon. On Sunday, ESPN's Adrian Wojnarowski noted Pat Riley and company are being very "aggressive" in pursuit of Butler, which came not long after a report from Tim Bontemps of the Washington Post noted there was a feeling around the league that Miami was a popular landing spot.

The question is what kind of trade package can the Heat put together for Butler. Much has been made about what Tom Thibodeau would want out of a Butler trade, but with Taylor now calling the shots on pulling the trigger on a deal, that seems to be less of an issue. Even so, the best deal one can figure is Josh Richardson and Kelly Olynyk for Butler, which makes some sense as the Wolves would add a quality young guard and bench depth, but it won't be surprising if Riley tries to make it work without giving up Richardson — who is the Heat's only real young asset on a good deal.
Beyond that, things get tricky, either requiring a third team or the Wolves being willing to take back one of Miami's big contracts in return for the Heat being willing to take back Gorgui Dieng. We'll have to see what kind of magic Riley can work, but for now it appears he is in pole position in the Butler sweepstakes with the clock ticking for Minnesota to get a deal done before camp starts.