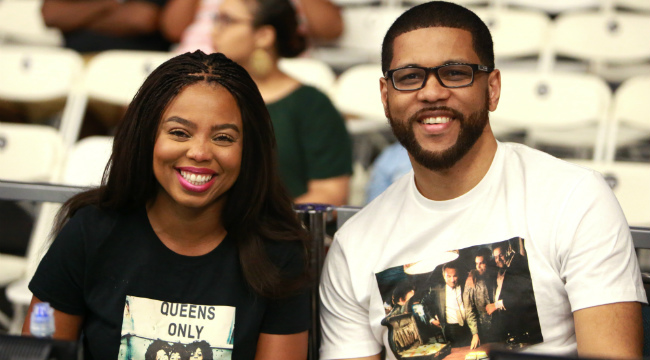 Michael Smith claims ESPN "muted" he and Jemele Hill's SC6, essentially forcing Hill off the evening edition of SportsCenter by not letting her do the job the two broadcasters were brought in to do.
Smith appeared on James Andrew Miller's 'Origins' podcast on Wednesday, and told the man who wrote the ESPN oral history These Guys Have All The Fun about the difficulties SC6 has experienced since Hill got immense backlash for comments critical of Donald Trump.
Instead of supporting their employees, Smith claims the network was compelled to silence the two and the unique way they did their show, for fear their off-the-cuff style would get the network into further trouble with conservative critics.

"They got what they wanted, which was Michael and Jemele being muted." Smith said according to the Chicago Tribune. "And that frustrated the (expletive) out of us."
Hill was suspended by ESPN for calling Donald Trump a white supremacist on Twitter last summer. Smith said that once Hill was back on air, the duo was no longer allowed to do the show the way they wanted to.
"There was a time we weren't even talking to each other (on the program) anymore," Smith told Miller. "Like no more Michael and Jemele, not less, not here and there. No more Michael and Jemele talking. No more of their commentary. It's just strictly live shots and analysts. That's what pissed me off so much.

"I'm like, so wait a second, you all acknowledge that one of the strengths that we have going for us as a show is Michael and Jemele's chemistry, but Michael and Jemele don't (expletive) talk to each other? How does that make sense?"
Smith was publicly supportive of his co-host during her controversy, but now hosts SC6 by himself. Hill left 'SC6' and moved to ESPN's The Undefeated vertical last month.