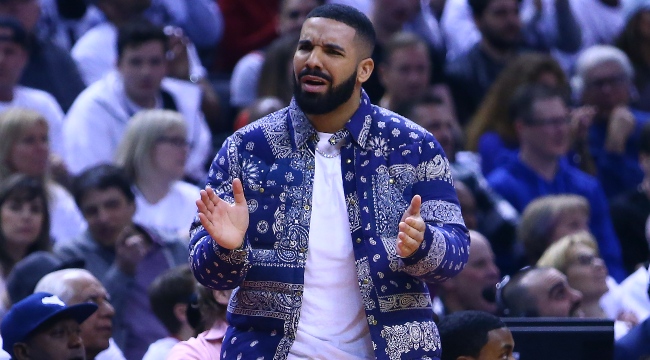 Outside of Jack Nicholson with the Los Angeles Lakers, you'd be hard-pressed to find a celebrity with a more prominent fandom of an NBA team than Drake with his beloved Toronto Raptors. A courtside fixture at Raptors games, Drake's love of his hometown team is so strong that he leveraged his well-documented fandom curse to help earn them a spot in the Eastern Conference Finals.
Now, Toronto will take on the Milwaukee Bucks in what should be an absolute war of a seven-game series. Things will tip off on Wednesday night, but before that happens, the first move in the war between the wonderful city of Milwaukee and the Grammy Award-winning rapper has occurred.
103.7 KISS-FM in Milwaukee posted a video to its Facebook page in which a trio of its personalities came to an agreement: As long as the Bucks and Raptors are facing off on the court, we won't hear any Drake on their airwaves. It included chanting the phrase "break from Drake," a Matt Hardy "delete" chant, and some more stuff you would expect out of a local radio station pulling off this sort of stunt.
https://www.facebook.com/1037KISSFM/videos/1289762097838143/
"I have an idea, Drake is from Toronto," one of the DJs named Riggs said. "Drake is a big smack talker on the basketball court. I say until the series is over, we take a break from playing Drake. No more Drake 'til the series is done."
Riggs and his fellow station personalities then walked over to another room and removed "In My Feelings" from their rotation of tracks. There is no word on whether Drake will be personally impacted by this decision, or if it will play a roll in propelling the Bucks to a series victory, but I would presume the answer to both of those questions would be no.