Entering the season, everyone knew the Philadelphia 76ers had talent. Joel Embiid, admittedly in a small sample, flashed obscene upside a season ago, Ben Simmons was the No. 1 pick in the NBA Draft for a reason and Robert Covington displayed all the signs to be a top-flight NBA role player that every team needs. With that said, there were plenty of skeptics with regard to what Philly could do for this season, simply due to uncertainty with both Embiid and Simmons from a health standpoint and the fact that young teams generally struggle in the league.
Fast forward to late March and the Sixers are genuinely terrifying. At 43-30, the team has exceeded any rational expectations and, at the moment, Philadelphia owns the league's fifth-best net rating (+4.1) from a season-long perspective. In fact, it could be argued that Philly is currently operating as the second-best team in the East (trailing only the Raptors), especially in light of an active seven-game winning streak.
The jury is out, of course, when it comes to how this will translate to the postseason and the same questions exist surrounding a team with little collective playoff experience. The presence of a steadying force (and a deadeye shooter) in J.J. Redick certainly helps but the team's premium pieces, Embiid and Simmons, will be forced to live up to the considerable hype under the (very) bright lights of April and May. Beyond that, there is the unknown of No. 1 pick Markelle Fultz, who returned to action on Monday night and impressed in limited time. He certainly adds a different dimension to the proceedings if everything goes according to plan with his comeback.
Regardless, it has to be said that no one wants to deal with the Philadelphia 76ers right now, at least if they are thinking rationally. The Cleveland Cavaliers have LeBron James and, thus, are scary in the playoffs, while the aforementioned Raptors have clearly been the East's best team this season. In the same breath, Philly is the team most equipped to pull an upset from a talent perspective and Brett Brown's team appears to be peaking at the perfect time.
Where do the Sixers rank in this week's edition of Dime Power Rankings? Let's explore the space.


1. Houston Rockets (60-14, Last week — 1st)
An active nine-game winning streak ensures that the Rockets continue to hold down the top spot. In fact, Golden State's continued injury issues virtually clinch Houston's spot here until the playoffs begin.
2. Toronto Raptors (54-20, Last week — 3rd)

A home loss to the Clippers somehow… allows Toronto to rise in the rankings? Well, it has far more to do with the state of the Warriors than anything. Still, the Raptors have been the best team in the East by a wide margin and they've earned this perch with continued excellence.
3. Golden State Warriors (54-19, Last week — 2nd)

Reports on the health of Stephen Curry aren't exactly encouraging and, given the current operating ability of the roster, this ranking is too lofty. The Warriors do have to land somewhere, though, and everyone understands just how dangerous Steve Kerr's team is with even a few of their top-tier players healthy and available.
4. Philadelphia 76ers (43-30, Last week — 11th)
Philly sent a message with dominant recent wins over the Nuggets and Wolves. That message probably includes something along the lines of "you want no part of us."
5. Boston Celtics (51-23, Last week — 7th)

The Celtics won't be at full strength for a while but the season-long resume is impressive and Boston has won four straight. It is easy to forget that Brad Stevens and company have wildly overachieved this season when taking everything, headlined by injuries, into account.

6. Portland Trail Blazers (45-28, Last week — 4th)

Portland finally lost a game… and then they lost another. A bounce-back road win over the Thunder kept the Blazers from falling more significantly, though, and this remains a dangerous and fun basketball team.
7. Cleveland Cavaliers (44-29, Last week — 8th)
Three of the wins came against the Nets, Suns and Bulls but, alas, the Cavs are rolling to the tune of a five-game winning streak. It may not seem like much at this juncture, but every little bit helps as LeBron's team attempts to round into form at the right time.
8. Utah Jazz (42-32, Last week — 5th)

I still have no idea how the Jazz lost to the Hawks at home but, since then, Utah took care of business in Oakland and didn't embarrass itself in a close-fought road loss to San Antonio. Offensive ceiling concerns are legitimate but the Jazz are rock solid.
9. Indiana Pacers (43-31, Last week — 9th)

The Pacers are just hovering in the same area and, as a result, they are being overlooked in a lot of ways. That would be a mistake. They're good at basketball.
10. Oklahoma City Thunder (44-31, Last week — 6th)
We're probably underrating the Thunder based on the immediate past, with two losses in the last three games. Big picture? Oklahoma City feels pretty dangerous. They don't feel quite as dangerous as we all thought they'd be in October but there is no inherent shame in that.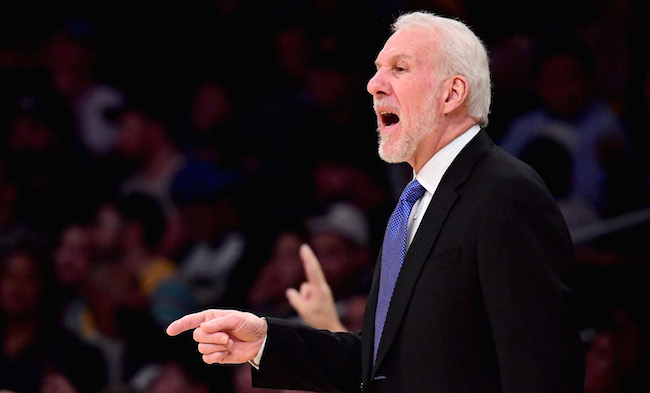 11. San Antonio Spurs (43-31, Last week — 10th)
The Spurs have risen from the dead to the tune of a six-game winning streak. While that came to an end with a loss to Milwaukee, reports of San Antonio's demise were apparently exaggerated. Gregg Popovich remains good at this whole coaching thing.
12. New Orleans Pelicans (43-31, Last week — 13th)

New Orleans took full advantage of a soft, four-game homestand and won all four contests. That spurt ended with a road loss in Houston but the Pelicans, like the Spurs, are doing what they needed to do.
13. Milwaukee Bucks (39-34, Last week — 18th)
It is amazing how much cache a win over the Spurs brings, especially right after San Antonio goes on a run. Milwaukee made the leap over a bunch of teams with questions… but they still made it.
14. Minnesota Timberwolves (42-33, Last week — 14th)

Losing to the Grizzlies is inexplicable, even with the uncertainty with the Wolves right now. Minnesota has a 1.5-game lead on the Nuggets for the No. 8 spot in the West but, suddenly, that isn't feeling terribly safe.
15. Los Angeles Clippers (39-34, Last week — 16th)

If not for an ugly run before that, the Clippers winning on the road in Toronto might have done more for their overall stock. That is a highly impressive victory at a good time for a team scrapping to get into the postseason.
16. Denver Nuggets (40-34, Last week — 17th)
Denver ran into the brick wall that is Philadelphia on Monday evening but, prior to that, back-to-back wins were garnered to stem the tide. It remains difficult to gauge what the Nuggets will do on a nightly basis, though, and that is troubling in late March.
17. Miami Heat (39-35, Last week — 15tb)

Miami is (still) what we thought they were. They're feisty but they're 18th in net rating (+0.2 points per 100 possessions) and wholly unspectacular.
18. Washington Wizards (40-33, Last week — 12th)

A bad time for a three-game losing streak. It is inexplicable for this Wizards team, in the middle of a playoff push, to lose at home to the Knicks and that is a punishable offense.
19. Charlotte Hornets (34-41, Last week — 21st)
Much like the Pistons (coming soon), the Hornets are padding their record at the moment against bad competition. It is tough to ignore an active four-game winning streak, though, and we won't do it in this space.
20. Detroit Pistons (34-40, Last week — 19th)

Don't look now but Detroit's won four of five games. All four victories have come against teams in the bottom ten, lowering the ceiling a bit, but that kind of run is still encouraging.

21. Los Angeles Lakers (32-41, Last week — 20th)

Only a win over the lowly Grizzlies kept the Lakers from a lengthy losing streak. For a long while, Los Angeles was playing like a playoff team. Right now, they are operating more like a team with a 32-41 record.
22. New York Knicks (27-48, Last week — 23rd)
Allowing 137 points to the Hornets isn't great but the Knicks did precede that by winning in the nation's capital. It is tough to reconcile that combination but it happened.
23. Sacramento Kings (24-50, Last week — 27th)

The Kings lost three games they were supposed to lose this week. On the bright side, they beat the Hawks in a game that they were, well, supposed to win.
24. Chicago Bulls (24-49, Last week — 25th)

This might be high for Chicago right now, especially on the heels of five straight losses. They were non-competitive in a road game against Detroit and, on a nightly basis, it is a spectacle to behold.
25. Orlando Magic (22-51, Last week — 26th)
Orlando did the bare minimum this week and that included a victory over the hapless Suns. It is tough to actually reward that win, especially at home, but we can't punish it either.

26. Brooklyn Nets (23-51, Last week — 22nd)

There is no shame in losing three straight games by single-digits and the Nets have done just that. Brooklyn is more pleasurable to watch than most of the teams in the bottom tier (perhaps because they are trying to win?) but the results just aren't there on the whole.
27. Memphis Grizzlies (20-54, Last week — 28th)

Memphis just won in Minnesota. That says more about the Wolves struggling than anything else but, somehow, the Grizzlies have two wins over playoff contenders in the recent past which is pretty much inexplicable.
28. Dallas Mavericks (22-51, Last week — 24th)
The Mavs have dropped five straight and that overcomes the peripheral advantage that the team has over many of the tanking bunch. Dallas is just plain bad and, while that is an edge over some of the dregs, it is frustrating nonetheless.
29. Atlanta Hawks (21-53, Last week — 29th)

A road trip to the West Coast almost seems unfair for the Hawks at the moment and the team's last two games came against the Warriors and Rockets. Next on the agenda? A road tilt against a Wolves team that badly needs a win. Best of luck.
30. Phoenix Suns (19-56, Last week — 30th)

The Suns have lost 12 games in a row. It is almost impossible to separate from the rest of the tanking pack but Phoenix is making every effort to do exactly that right now and have moved into the top spot in the lottery thanks to Memphis' sudden penchant for beating playoff teams.