I know nothing about the NBA. I used to when I was in high school back in a time we historians call "The '90s" but now? Of the 10 NBA players I can name, seven are Warriors. Did you know there's a team in New Orleans now? What happened to that team in Vancouver? Is Kurt Rambis still playing?
One thing I do know is the NBA is the only fun sports league remaining, so there's no better time to start rooting for a team. The following is a list of teams ranked from least rootable to most rootable to help you find a new team to root for.
Please read this carefully and choose even more carefully. Thank you.

30. New York Knicks
If you're rooting for this team at this point, you're a sucker. This is an organization that had security beat the crap out of its most popular ex-player, then the owner went on local radio and called him an alcoholic. On top of all that, the team sucks. Unless you were born into Knicks fandom, you have no excuse to make yourself part of it now.
29. Golden State Warriors
Look, this team is why I even remotely care about the NBA but it's too late to get on this bandwagon. They're too good. Cheering for the Warriors now is like seeing two mob guys assault a small business owner for extortion money and cheering for the two mob guys because they're so unstoppable.
28. Cleveland Warriors Cavaliers
It's basically the same argument as the Warriors, only instead of mob guys, you're cheering for the snitches in the mafia that eventually get whacked by the mob guys.
27. Brooklyn Nets
Isn't this the team that traded all its draft picks for one good season? People don't even do that in fantasy leagues. Plus, the uniforms suck. There's nothing to like here, but ownership at least has a sense of decency compared to the team in Manhattan. It's not like they're posthumously trashing Drazen Petrovic.
26. Los Angeles Lakers
If you're not rooting against the team that employed Kobe Bryant for two decades, you're not living your best life.
25. Utah Jazz
Never root for a team that plays in a state that makes it almost impossible to buy alcohol. Salt Lake City is a Footloose-ass-town. The tailgate scene before games at Stockton's Short Shorts Bar is probably six dudes drinking decaffeinated coffee describing in detail every Jeff Hornacek free throw. You can do better.

24. San Antonio Spurs
Is Terry Cummings still on the team? Even when the Spurs are good they are boring as hell and chances are they won't be good for much longer. You don't want to invest 82 nights of your life watching good fundamentals.
23. Dallas Mavericks
If you want to give Mark Cuban money for a bad product, advertise during Shark Tank. If you want to watch a broken-down once-great German at the end of his career, go watch Boris Becker play Grand Slams in 1995. This would have been a great team to jump on 10 years ago.
22. Washington Wizards
All DC-based sports teams are haunted. Don't do this to yourself.
21. Sacramento Kings
Why is there a professional sports team in Sacramento? This bum-ass team has cracked 30 wins twice since 2008-09 and it's located in Sacramento. Can't the NBA relegate this team to the D-league or Europe? Or is Sacramento a form of relegation? What are they doing with their draft picks? Does the GM bring a card to the podium and just as the pick is announced, the card bursts into flames?
20-11. Memphis Grizzlies, Minnesota Timberwolves, Phoenix Suns, Orlando Magic, Charlotte Hornets, Indiana Pacers, Milwaukee Bucks, Detroit Pistons, Denver Nuggets, Portland Trail Blazers
These are all teams I have absolutely zero feelings about. I nothing them. They're also a lot of teams that were cool in the recent past. Remember those Steve Nash teams in Phoenix? Penny Hardaway in Orlando? Those Pistons teams that would beat the crap out of fans if they felt like it? Rasheed Wallace and those weed-loving Trail Blazers teams we all enjoyed? Those were good times.
Man, I could not name three total players on these 10 teams. Is Jack Sikma still on the Bucks? What's Larry Johnson's status in Charlotte? Vinnie Johnson was great because you don't find too many other guys nicknamed The Microwave in sports. That'd be like a guy today earning the label The Tinder because he scores in bunches.
Anyway, here are the teams I, the basketball genius, fully endorse.

10. Miami Heat
This is a stretch, but they have a player named Hassan Whiteside, and watching his games will put Mr. Brightside, a good song, in your head for six months a year. You will be singing, "I'm Hassan Whitesiiiiiiiiide" everywhere you go. You will think of new lyrics during all quiet moments in your day.
"Coming out of the paint / and he's doing just fine / gotta gotta block down / because I want the ball / it started out with a tip / how did it end up like this / it was only a tip / it was only a tip"
Or if that seems as annoying as it seems now in retrospect, maybe pick a different team.
9. Chicago Bulls
I think the Bulls are supposed to be bad this season, right? I'm looking over the roster and I've literally heard of no one. Cameron Payne? Cristiano Felicio? Mitchell Friedman? The bottom line is I'm a '90s guy and the Bulls were the most '90s NBA team and I'll always have a place in my heart for this franchise.
8. Toronto Raptors
Because it would be funny if a Canadian team won an NBA title more recently than an NHL title. Get in on the ground floor. You could taunt two countries worth of people if the Raptors win it all. You can't put a price on that type of obnoxiousness.
7. Los Angeles Clippers
Blake Griffin is still on this team, right? That makes it automatically fun. On any given night, you could see some awesome dunks or Griffin hurt himself when his foot gets caught in the net after a dunk. Anything is possible.
6. Boston Celtics
I understand if you're hesitant to align yourself with a team loved by Bill Simmons, but the Celtics are hilariously all-in to beat the Cavs and lose in the Finals. They need all the help they can get from new fans.

5. New Orleans Pelicans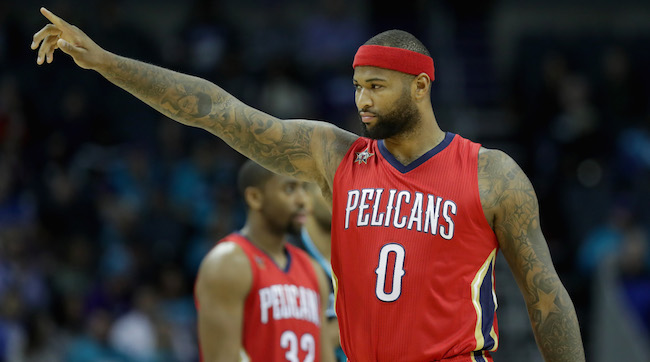 You're old. You're married. You have absolutely no reason or excuse to ever go to Mardi Gras … unless you become the biggest Pelicans fan in the world. "But honey, it's Pelicans-Lakers on Feb. 14, it's Valentine's Day too, let's make a vacation out of it." Boom, you've turned the love of a basketball team into love for your significant other. Or something. Go get hammered in New Orleans.
4. Houston Rockets
Chris Paul and James Harden, the guy from the best NBA gif that doesn't involve Alonzo Mourning. This team will score a bunch of points and be very fun before they lose in the playoffs to either the Warriors or Thunder. The Rockets won't bog you down into June like other teams. They care about your vacation plans.
3. Atlanta Hawks
Donald Glover has made Atlanta popular but if you choose to root for the Hawks to ride that wave, please, do not refer to Atlanta as "The ATL" unless you are from there. And even then, please ask a local if that's OK. They're a consistent playoff team and it's an excuse to wear a throwback Dominique Wilkins jersey to a Hawks game when they're on the road.
2. Philadelphia 76ers
Joel Embiid is the best thing to come out of Philadelphia since It's Always Sunny and demands your support. He's funny, is the rare athlete to get the better of Mia Khalifa on social media and is actually good at basketball. This is probably your last chance to get in on the Sixers before they take off. They are a great long-term investment and are also extremely tall, if that matters. They're poised to go to great …heights.

1. Oklahoma City Thunder
The side effect of the Warriors pulling me into the NBA is I've gotten to know Russell Westbrook, who I admit was a little whiny after Kevin Durant dumped him for a title last offseason but he's like Batman to The Joker — I can't kill him because he's too much fun. Did you see that White Men Can't Jump spread on Instagram? That's maybe the funniest thing any athlete has ever done (Yes, funnier than LeBron in Trainwreck, which wasn't that good).
Look at everything OKC has going for them:
small market team, so you can't be accused of being one of those Laker/Yankee/Cowboy/Notre Dame fan that picked a team because it was very popular and won all the time
all this team wants to do is end the Warriors, and you should be rooting against the Yankees of the NBA all the time
excellent uniforms
there's a guy on the team that can take a kick in the balls like champion
If you're looking for an NBA team, you can't do any better than the Thunder.