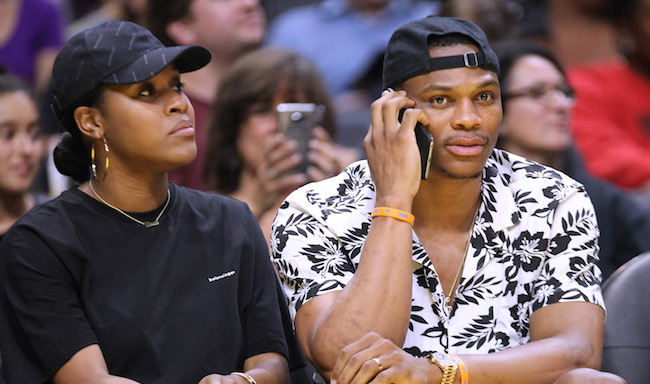 Russell Westbrook had a great summer. He had his first son, won the NBA MVP award, saw the Thunder go out and trade for two superstars in Paul George and Carmelo Anthony, and inked a five-year extension worth more than $200 million to keep him in Oklahoma City to make him the most popular man in the city.
It's October now, which means two things. The NBA season tips off soon and it's Halloween season. The Thunder open their season on Thursday night in New York, which means Westbrook and his teammates have some downtime to think a little bit about what they want to do for Halloween.
For Westbrook and longtime Thunder center Nick Collison, they decided to keep their Halloween get up basketball related by crushing a cosplay of Sidney Deane and Billy Hoyle from White Men Can't Jump. The side-by-side of the two posing like Wesley Snipes and Woody Harrelson's characters are truly incredible.

Westbrook and Collison also got their wives in on the action, dressed as Rosie Perez and Tyra Ferrell's characters, and they nailed it too.
This is immediately one of the best NBA player Halloween costumes we've ever seen. We shouldn't be surprised that Westbrook would have such attention to detail when it came to the clothing choices matching up almost perfectly, as he's one of the NBA's most fashion-conscious players. I doubt we'll see any NBA players top this as the month goes on, so if nothing else, the Thunder can claim the title of the NBA's Halloween costume champs.