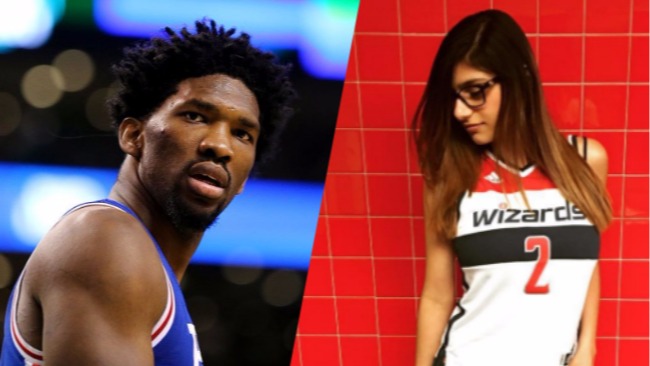 For those who aren't hip to the adult film crossover scene, Mia Khalifa skyrocketed to fame in 2015 as "PornHub's most popular porn star," because she was "super popular and super controversial." Also, aside from the whole sex-on-camera thing, she loves to talk about sports, so bros on the left, right, and middle of the porn/sports Venn diagram are always digging what she has to offer. Her run in porn was short-lived, though, and her knack for calling out professional athletes for sliding into her DMs made her a natural to become a controversial sports columnist for Fansided, similar to how retired porn superstar Lisa Ann now dishes out fantasy football advice.
Still, even when you're named "D.C. Sports' Most Influential Fan," people tend to linger on the sex aspect of your professional background. For example, rising Sixers superstar Joel Embiid posed for a photo with Meek Mill (as well as teammates Ben Simmons and Nerlens Noel) after the rapper joined the very important movement to get Embiid elected to the NBA All-Star Game so he can marry Rihanna or something. Obviously, the man known as The Process shared that image with pride, but then Khalifa, a John Wall supporter, lifted the image and used it to take a cheap, easy shot at the Sixers players and a rapper known for taking the L.
"Room full of L's" she writes, presumably chuckling to herself at the thought of how angry it might make ol' Burt Gertson. But if she couldn't see Embiid's response coming from 10 time zones away, she has no business taking on the NBA's king of Instagram trolling.
From there, well, you know the Internet. The responses to Embiid's "savage AF" comment range from "You're the [multiple GOAT emoji]" to phrases so vile, racist, and sexist they make me wish the Internet had a flush lever. Khalifa might be wise to take her own L here and move on, but she's a sports columnist, after all, so she is probably just working on the right angle for the triumphant return of Mia's Pick 6.