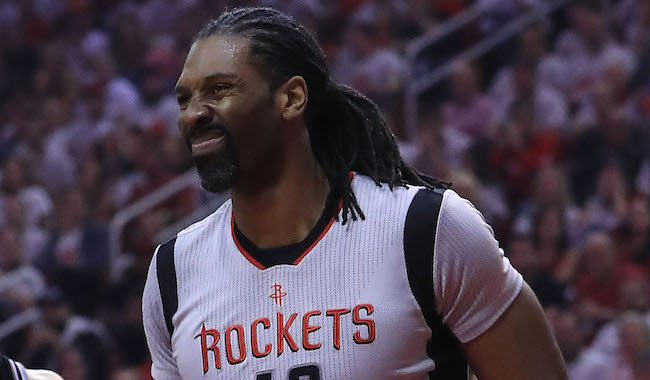 The Houston Rockets entered as massive, double-digit favorites in Game 2 but, after the Joe Ingles Show exploded for the world to see, James Harden and company will be headed to Salt Lake City without the benefit of homecourt advantage in the series. In the midst of the surprising defeat, Harden and his team were captured on camera leaving the floor for halftime (with a nine-point deficit) and, in what has become a more frequent occurrence, the MVP front-runner was greeted with a heckler and a camera phone on his way to the tunnel.
Harden appeared to say something to the fan while breezing by but his teammate, veteran center Nene, came to his star guard's defense with a bit of a shove/stiff arm as he walked on by.

Given what Nene could have done at his size, this felt like a rather mild occurrence but, in the same breath, he came into physical contact with a fan and the NBA usually frowns upon that. Later, Rob Perez of ESPN captured the Jazz fan seemingly being interviewed by arena security.
It will be interesting to see if there is any discipline for Nene in this case, though it has to be noted that he has appeared for only four minutes in each of the first two games in the series. It also seems plausible that additional video (or even audio) exists somewhere in the world of technology and that could present additional evidence one way or another.