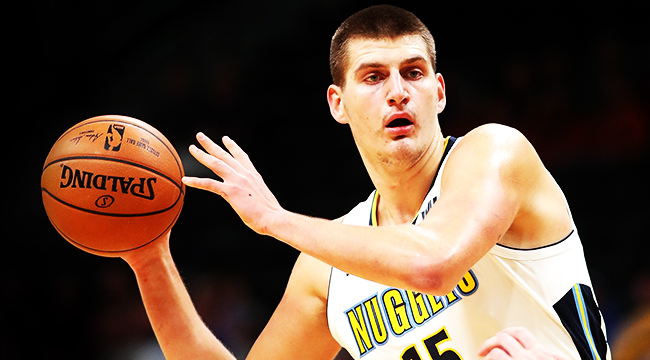 Nikola Jokic is coming off of the best month of his young career. In the 10 games the Nuggets played in February, the 41st pick in the 2014 NBA Draft averaged close to a triple-double with 21.8 points, 11.3 rebounds and 9.0 assists per game on 55.6 percent shooting from the field and 56.3 percent shooting from the perimeter. The Nuggets won seven of those 10 games, giving them a slight advantage over the Clippers for the No. 8 seed in the Western Conference with six weeks remaining in the regular season.
That stretch bumped Jokic's season averages to 16.9 points, 10.5 rebounds and 6.0 assists per game. While there isn't another center currently putting up those numbers — DeMarcus Cousins wasn't far behind before he suffered a season-ending injury in January — the assists should stand out because it would be the most a center has averaged in a single season since Wilt Chamberlain in 1967-68. The closest anyone has come in the last 35 years is Joakim Noah, who dished out 5.4 assists per game in the 2013-14 season.
To highlight just how good the Serbian star is at moving the ball, let's take a closer look at how Jokic generates his assists to get a better understanding of what makes him one of the best passing big men the NBA has ever seen.

Early Offense
Only 11 players are currently pulling down more defensive rebounds per game than Jokic. He might not be as strong as Joel Embiid or as explosive as DeAndre Jordan — both of whom have Jokic beat in the defensive rebounding department — but he knows where to position himself when a shot goes up and how to use his size to beat opponents to the ball. It helps him record 7.7 defensive rebounds per game, 2.5 of which are contested.
Whenever Jokic secures one of those defensive rebounds, his teammates can take off knowing he doesn't have to give the ball up to a guard for the Nuggets to have an opportunity to score in transition. While he's capable of pushing the ball himself, he much prefers to punish teams for not getting back on defense by throwing full-court passes to Gary Harris, Jamal Murray or Will Barton. It helps the Nuggets generate scoring opportunities within seconds of the opposing team missing a shot.
Jokic's accuracy on those outlet passes is impressive, both when he launches them with one hand and when he launches them with two hands. He doesn't just pass the ball to Harris, Murray and Barton, he leads them to the basket by throwing it slightly ahead of them.

This is an incredible skill for a big man to possess, because it means the Nuggets' guards don't have to slow down much to receive the pass. There are even times when they can just catch the ball in stride, which was on display here.
Jokic does turn the ball over at a high rate in transition, but there aren't many players his size who can turn a defensive rebound into a layup as quickly as he can without taking a dribble. It makes him the ideal center to pair with players who live in transition because they don't have to worry about making themselves available in the backcourt after contesting a shot on the perimeter.

The High Post
When the Nuggets aren't able to score in transition, they like to run their half court offense through Jokic in the high post.
Giving Jokic the ball outside of the paint doesn't have a negative impact on Denver's spacing because he's comfortable shooting from midrange and the perimeter. He's incredibly efficient in those areas as well — according to NBA.com, Jokic is shooting 47.3 percent from midrange and 37.1 percent from 3-point range this season. Being a reliable threat from those distances means his defender can't help off of him when he has the ball in his hands, which creates wide open lanes to the basket for his teammates.
It's what happens on this possession:
Zaza Pachulia has to follow Jokic out to the perimeter because Jokic won't hesitate to shoot if he's left wide open. Because he's surrounded by Murray, Harris, Barton and Wilson Chandler — four players who the defense have to account for on the 3-point line — it creates a huge opening underneath the basket for a cutter. At his height, it's easy for Jokic to see over the top of the defense and deliver a perfect pass to the cutter.
More often than not, though, Jokic will use those high post touches to run handoffs with Harris, who has been on the receiving end of almost a third of Jokic's assists this season. Upon getting the ball from Murray in the high post, Jokic often takes a couple of dribbles towards Harris in the strongside corner and hands the ball off to him, basically turning the possession into a pick-and-roll. Because Harris is a confident three-level scorer, he has all the tools to take whatever the defense gives him in those situations.
For example, Harris can shoot a three-pointer if his defender goes underneath Jokic's screen. Over a third of Harris' shot attempts this season have been made up of catch-and-shoot 3-pointers, and he's made 42.0 percent of those opportunities. It puts him on the same page as a number of knockdown shooters, such as J.J. Redick, Chris Paul and Kyle Lowry.

If Harris' defender chases him over Jokic's screen to take that option away, he can pull up from midrange or finish at the basket. He doesn't shoot from midrange as often, but he's made43.9 percent of his 2-point pull-ups this season. He can even knock down the occasional three-pointer off the dribble.
The play doesn't break down if Harris doesn't receive the ball from Jokic, either. Sometimes Jokic will fake the handoff and lead Harris to the basket for a layup or dunk, sort of like this:
If teams then take the handoff option away all together by having Harris' defender turn their back to Jokic, Harris will take one step towards Jokic before cutting backdoor.
The chemistry Jokic and Harris have developed over the last couple of seasons has helped Harris become one of the best handoff scorers in the league. According to NBA.com, Harris trails only Wayne Ellington in handoff scoring this season and ranks in the 62.6 percentile with an average of 0.98 points per handoff possession. It's therefore no surprise that those plays represent 6.9 percent of Denver's offense on the season, putting them behind only the Pistons and Heat in handoff frequency.

The Low Post
Another way the Nuggets run their offense through Jokic is in the low post. It's where he has generated a quarter of his own offense this season, and he ranks in the 62.4 percentile with 0.92 points per post-up possession. While he's not the league's most efficient scorer with his back to the basket, he's one of the more versatile. He can face-up to the basket if his defender gives him space, score over either shoulder if they try to force him into a particular direction and combine various moves when they take his first option away.
Jokic's ability to consistently create his own shot in the low post has a way of drawing the attention of multiple defenders when he has the ball in his hands. Similar to how putting four shooters around him opens up the paint for cutters when he's operating out of the high post, pairing him with those players gives him the space he needs to score in the low post and simplifies his passing options when teams crowd the paint.
What separates Jokic from other centers is he reads the floor like a guard. Just look at this behind-the-back beauty to Chandler cutting baseline:
That's just the tip of the iceberg when it comes to type of passes Jokic will make out of the low post, too. His touch passes in particular aren't something you'd ever expect to see from a player his size.
As different as those passes are, they both begin with Jokic establishing himself as a threat to score with his back to the basket. If teams weren't worried about him scoring, they wouldn't react in a way that opens up opportunities for Jokic to make those high-level passes to his teammates. It's why defenses have to be careful with how liberally they switch assignment against the Nuggets, because he can pick guards apart in the post if teams choose not to double him and he can set up his teammates with high percentage looks if they do choose to double him.

The Roll
Outside of the post, Jokic scores most of his points as the roller in pick-and-rolls. He only ranks in the 39.5 percentile with 1.02 points per possession, but the same tools that make him a factor in the high post and low post help him in pick-and-rolls.
Jokic isn't necessarily at his best as a scorer in pick-and-rolls anyway. He's at his best making plays on the roll, where he can use his height and vision to set up teammates for open looks on the perimeter and in the paint. If he pops to the three-point line in those situations and his defender follows him out to the perimeter, he can take them off the dribble and wait until the help defender rotates over before making a pass.
If he rolls to the basket and draws a help defender, Jokic can slip a pass through the smallest of cracks to whomever is standing underneath the rim, where half of his assists have come from on the season.
And Jokic can, of course, find the open 3-point shooter when the defense collapses to the paint.
Jokic's ability to space the floor and do guard-like things with the ball in his hands means he can be paired with another big man in the frontcourt. According to Basketball-Reference, Jokic has logged 24.0 percent of his minutes at power forward and 76.0 percent of his minutes at center this season. Both he and the Nuggets have performed better in his minutes at center, but he has the versatility to play alongside Mason Plumlee or Kenneth Faried in spot minutes.

Combinations
Check out this possession:
Jokic starts it by setting a back screen on Murray. He then receives the ball at the high post, runs a handoff with Murray, rolls to the basket and immediately goes to the post when the much smaller Tyrone Wallace switches onto him. Murray wisely attacks the mismatch by feeding Jokic the ball in the post, paving the way for Jokic to draw a double team and throw a cross-court pass to Barton, who drains a pull-up from just outside the paint.
That's what makes Jokic a special passer. It's not that he can pass out of the high post, the low post and on short rolls. It's that he can seamlessly transition from one of those to another depending on how the opposing team chooses to defend him and the Nuggets. Switch the handoff to prevent the ball handler from getting an open shot? Jokic will go to the post. Double him to take away that advantage? Jokic will use his height advantage to see over the top of the defense and patiently wait for one of his teammates to get open. Double the ball handler to prevent them and Jokic from getting a mismatch? Jokic will roll to the basket and take whatever the defense gives him.
Put it all together, and you have someone who is on the verge of doing something we haven't seen in 50 years. And at 23-years-old, it gives the Nuggets a unique player to build around as they continue their climb up the Western Conference standings.