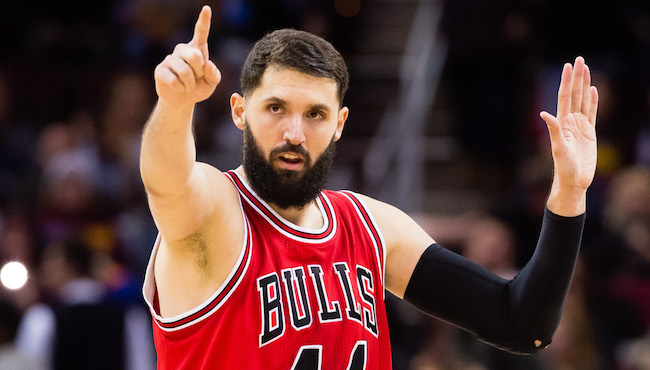 Nearly two months have passed since Nikola Mirotic was hospitalized following a fight with teammate Bobby Portis in practice, but on Friday evening, the Chicago Bulls forward returned to action against the Charlotte Hornets. Both Mirotic and Portis came off the bench for Fred Hoiberg's team, but in addition to the noteworthy effort to simply make his 2017-2018 season debut, Mirotic also reflected on his time away and any lingering anger toward Portis or anyone else.
"I'm not angry at anyone," Mirotic told K.C. Johnson of the Chicago Tribune. "I'm doing fine with myself. My family is great. There's nothing to be angry about now. It's all over. It's a new beginning."
Mirotic most recently noted publicly that he accepts Portis' apology while simultaneously avoiding the topic of a rumored trade request made to the Bulls after the incident. While there was plenty of tabloid-worthy buzz surrounding the two players, it appears they have found enough common ground to at least coexist, and in fact, Mirotic and Portis were seen exchanging high-fives during the course of the game against Charlotte.
It seems like a safe assumption to think Nikola Mirotic and Bobby Portis won't ever be the best of friends, but with Mirotic declaring the beef "all over" at this point, it's time to move on.