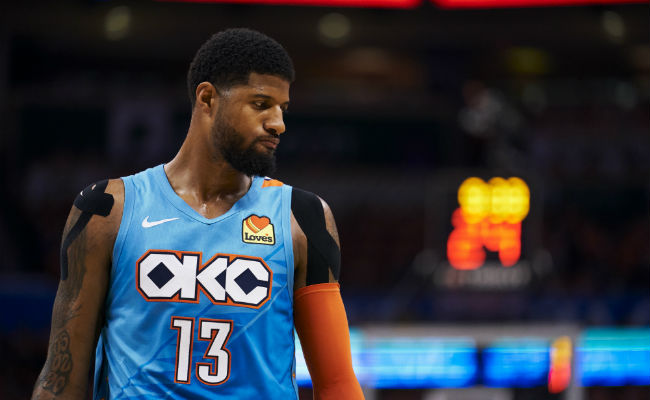 The most shocking development of a crazy NBA offseason was Paul George being traded from the Thunder to the Clippers to help facilitate Kawhi Leonard signing in L.A. Leonard apparently worked hard on his end to convince George to join him back in their hometown, and George asked Oklahoma City to send him there.
The Thunder used the leverage they had to get a record haul of draft picks as well as a terrific young point guard in Shai Gilgeous-Alexander, and later flipped Russell Westbrook to Houston to cement the fact that a rebuild would begin soon. On Wednesday, George was officially introduced as a member of the Clippers and he explained how and why he pushed for a trade there.
The most interesting part of his comments was in saying the plan in Oklahoma City was always to give it one more year and re-evaluate where things stood, claiming it was a mutual decision to trade him. On Thursday, Sam Presti of the Thunder spoke at a press conference and politely disagreed with George's statement, noting that it wasn't an acrimonious split, but also was not what he would define as mutual.

Presti on George's comments yesterday: "I know he used the term mutual. I don't necessarily agree with that "

Because that implies that they wanted to trade George. But Presti said it wasn't "adversarial."

"I fully respect the way it was handled."

— Maddie Lee (@maddie_m_lee) July 25, 2019
This seems more in line with what was initially reported, as the trade request surprised the Thunder, but they pivoted and realized it was a chance to reset the table and stock the cupboard with a lot of future assets. Presti also addressed the rumors that Westbrook and George were unhappy at the end of the season, noting that there aren't a lot of teams that enter the offseason happy with the way things finished.
Sam Presti on reports of Paul George and Russell Westbrook being discontent at the end of the season: "I just can't get into whatever the speculation is. I just can tell you this, I don't know how many people in the NBA are contented at the end of the season."

— Maddie Lee (@maddie_m_lee) July 25, 2019
Perhaps Westbrook and George always planned to sit down after the season and reassess things, but it doesn't seem as though Presti and the Thunder organization expected Year 2 of that combination to possibly be the end. In any case, Oklahoma City did well in changing course towards a rebuild, while George and Westbrook are now each part of a new dynamic duo with hopes of winning a title.