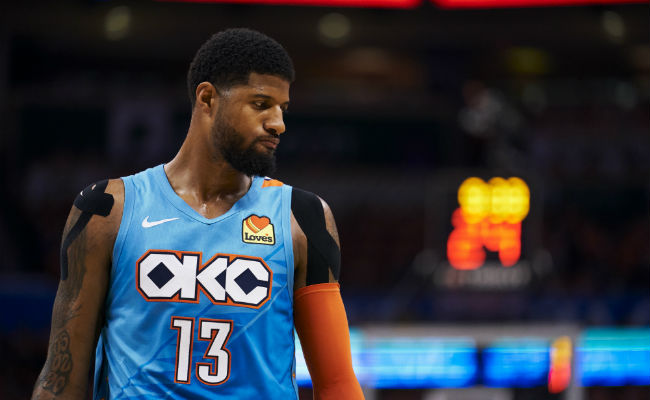 When the 2019-20 NBA season tips off this fall, a total of eight All-Stars will be in different uniforms. It's the most significant superstar movement we've seen in one summer. Not only did it completely rearranged the league's competitive landscape; it represents a watershed moment for player empowerment.
Kawhi Leonard was at the center of it all, and the way he was able to use his leverage to orchestrate a trade for Paul George, a player who wasn't even on the market at the time, could have ripple effects for years to come. On Wednesday, the Clippers introduced their new superstar tandem at a press conference in Los Angeles, where they each faced questions about how the deal came together.
In a sit-down interview with ESPN's Rachel Nichols, George claimed that he and the Thunder more or less came to a mutual agreement to part ways, citing the notion that, despite him signing a four-year contract last summer to remain in OKC, the two sides had apparently agreed to give it one more season and re-evaluate this offseason.
"It's still surreal."
Here's an excerpt from my conversation with Kawhi Leonard and Paul George – full interview still to come: pic.twitter.com/Pd6m0ScXGl

— Rachel Nichols (@Rachel__Nichols) July 24, 2019
PG on OKC:
"This was nothing that came out of the blue; we were all on the same page. The initial plan was to give it another year, see what we could do & I did that. We played another year & it felt like we were just stagnant. Next thing was, let's move forward with other plans"

— Rachel Nichols (@Rachel__Nichols) July 24, 2019
It's hard not to arrive at the same conclusion after getting knocked out of the playoffs in the opening round for the second straight year. Beyond that, it signals a cultural shift: any player is available at any time, regardless of whether they're under contract, as long as they have the necessary leverage.
Naturally, there's been a lot of hand-wringing about this, and we won't understand the full implications of this for some time. But at no point in league history have players had more control, not only of their own destiny, but that of others as well. And in George's case, that apparently includes the narrative that accompanies it.