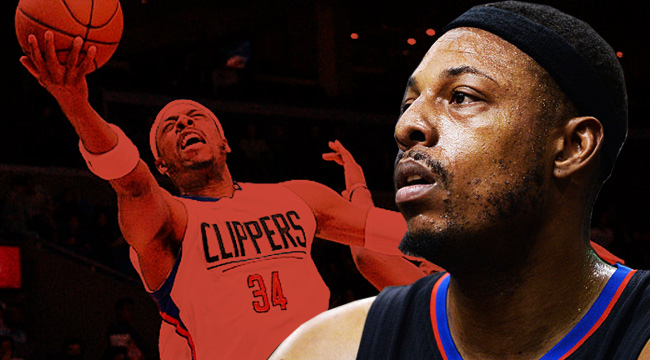 Without much fanfare, Paul Pierce 's NBA career came to a close as soon as the Los Angeles Clippers got eliminated in six games by the Utah Jazz in the first round of the playoffs. Pierce had announced his retirement before the start of his 19th year in the league, so his career coming to an end wasn't that surprising, especially since he was in a very limited role on the Clippers.
But even though he was in his twilight in the NBA, every now and then Pierce would have one of those moments that forced you to shake your head and acknowledge his illustrious career. Like when he checked into a game against the Celtics in Boston in February.
This was Pierce's last game playing in front of the Boston faithful and although he was dressed in Clippers' black, Celtics fan willed him into the final seconds of the game as they wanted one last chance to witness a franchise legend play before their eyes. And Pierce delivered, immediately nailing a three-pointer that sent everyone in the Garden into a jubilant frenzy.
But it was expected that Pierce would hit that shot. After all, he had his fair share of big moments in his lengthy career that includes an NBA championship, Finals MVP trophy, 10 All-Star appearances and multiple All-NBA selections. Whether it was calling game after hitting a playoff game-winner for the Washington Wizards or helping the Celtics hang their 17th championship banner, throughout his notable 19-year career Pierce was as Shaquille O'Neal dubbed him, "the motherf—–g Truth."
So after such a brilliant career, what will Pierce be doing now that he is retired?
Well Pierce is planning on improving his bowling game and getting in a lot of family time, which includes cooking his favorite pasta dish for his children and wife. But Pierce will also continue to be a fixture in the league as after a successful run as an analyst during the Finals, he is working on joining ESPN's NBA Countdown as a permanent member of the crew.
As part of his partnership with Barilla pasta, Pierce caught up with DIME on the phone to talk about his final year in the NBA, his career, those dang emojis, and his thoughts on the league as a whole.
How has retirement been treating you so far?
I'm doing real good man. Just having a good time enjoying my family and enjoying life without the pressure of having to get up in the morning and train my brains out to get ready for another season. Now, I can enjoy my time with the family and do other activities that I probably wouldn't normally do at this time of the year It's been real relaxing.
Now that you did a brief stint working the Finals with the ESPN's NBA Countdown crew, are you planning on joining them on a more permanent basis?
Right now, we are in talks about me possibly signing a contract there and joining the team. I think me, Jalen [Rose] and Chauncey [Billups], we really had some good chemistry on the air. And [Michelle] Beadle of course. I think we had some good chemistry there and it's something that will work out.
Chauncey has actually been rumored to be in the running for the open GM job in Cleveland. Can you see him in that type of role whether it's with the Cavs or another team?
Yeah, actually me and Chauncey talked about that before. He said he wanted to be in a front office and I think he will be great. He's young, he's smart, he's been a champion in this league and I just think that players can relate to Chauncey, like when he has a free agent meeting or things of that nature. I always thought he would be good in that type of position because of his IQ for the game and what he can bring to the table.
Are you still planning on signing a one day contract with the Celtics, so you can officially retire with them?
Right now, we are just waiting for all of the trades to go down before the Celtics pick up the big time free agent acquisition of me again for one day. I just want to say that I retired as a member of the Boston Celtics. I always said that when I was there for so many years. And I think it's only right for me to do that, so when it goes in the history books, it says he retired with the Boston Celtics.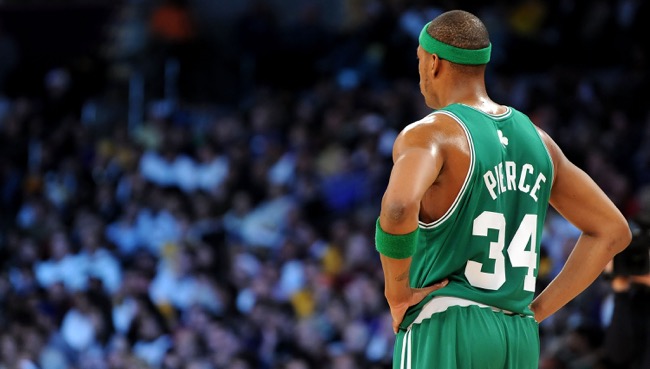 You've had so many big moments with the Celtics but how special was your last game in Boston this past February?
That was very special. Just to know that was my last time playing in the Boston Garden as a player…just to go in there and feel the appreciation…because when you in it and you are there for so many years, you are used to the crowd everyday. You get kind of used to it.
But then when you leave and comeback, it just tells you how much, you really were appreciated. They really showed that.
And for me to go out there, one last time and have a moment for the fans and the people I saw for years and years – season ticket holders, ball boys, statisticians on the sidelines – it was a special moment for me to go in there, wave my hand, knock down a shot and have the crowd go wild. That's something I will always remember and will definitely go on my career highlight tape.
This is a bit off topic but how did you and your daughter get involved in the NBA's commercials for Hidden Figures last year?
It was just something the NBA wanted to promote with dads and their little girls. I'm always bringing my family around to certain events like All-Star weekend, so the NBA always saw me in that daddy-daughter relationship so that's probably why I was picked for that.
But I had a chance to see the movie and I really didn't know that there were young black woman involved in NASA. That was really inspiring for me and my daughter to see – just to see that woman can do a lot of jobs that men are perceived to do. And then for me to be in the commercial where I'm talking with my daughter about how inspiring the movie was, I thought that was awesome.
With the last team you played for the Clippers, what type of future can you see them having? They have several key players who are free-agents this summer.
That's a tough situation. Everybody is chasing the Golden State Warriors right now. People don't understand that the Warriors re-defined the definition of a super team. Before me, Kevin [Garnett] and Ray [Allen] or LeBron, D-Wade and [Chris] Bosh, were considered super teams but the Warriors re-defined it again. You have to ask yourself if you are the Clippers, are we good enough to compete with them?
I think the pieces are there. If they can add a Paul George or a Jimmy Butler – it seems like everybody wants them right now -.the Clippers need to find a way to get into that mix. I feel like if they get in that mix with what they have, they are ready to compete with the Warriors.
I wouldn't want to be an owner right now, especially the Clippers owner with Blake, Chris and JJ Redick being free agents. I got to ask myself, how do I pay these guys and also improve the team. That's just a tough situation. If you give them the max money, do you have any room to improve the team? It will be an interesting summer but the Clippers have some good basketball minds over there with Doc [Rivers], Lawrence Frank and now adding Jerry West, so it will be interesting to see what they do.
Are you aware of how you become part of meme-culture? Like with you having two phones at the slam dunk contest and your emojis not really being emojis?
I hear about it all the time. I'm still trying to catch up to speed with everything. My emoji game has definitely gotten better. When I was at the All-Star game, I was streaming the dunk contest on somebody else's phone and my phone. It made for a good joke.