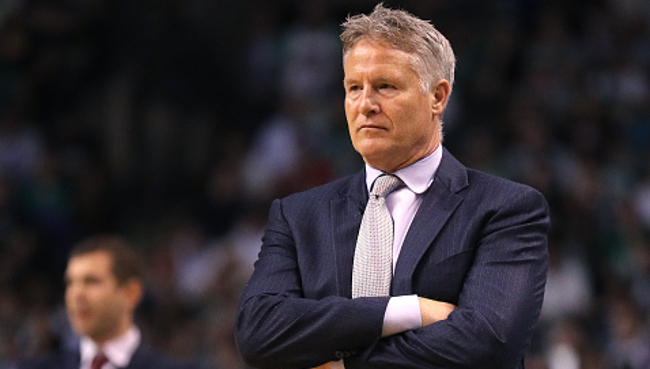 The Philadelphia 76ers made one of the smartest pick of the 2018 NBA Draft when they used the 10th overall selection to select Mikal Bridges. Between his near-perfect fit on their roster, the fact that he went to school at Villanova, and the fact that his mom works for the team, just about everyone figured the Sixers would snatch up Bridges if he was available at 10. He was, and they did, and everyone seemed content with the decision.
That's what made the fact that Bridges got flipped a little later in the evening to Phoenix so shocking. Bridges got moved for Texas Tech product Zhaire Smith and Miami's unprotected 2021 first-round pick. The former is a high-risk, high-reward type player (the exact opposite of Bridges in many analysts' eyes), the latter is a potentially fantastic asset to have.
Sixers coach and acting general manager Brett Brown explained the decision to make the trade after the dust settled. He said that despite there being the obvious human element to it, Bridges and Smith were 1A and 1B on their draft board, and getting to take their 1B while also getting a valuable future asset was a smart move.

The thing is Brown made it clear that pick might not be used by the Sixers. Instead, he said it could be a major help while the franchise is "star hunting."
"There's a 2021 pick, and we all understand that that could be the year that high school people are allowed into the NBA," Brown said. "That is far out. It also could be the thing, as I said to Marshall, that could be the thing that flips it with us having more assets to enhance a realistic trade for a star. We are star hunting, or we are star developing, that's how you win a championship."
With the Sixers being mentioned as a potential landing spot for just about every big name on the market this summer, having a piece as valuable as an unprotected first rounder like this could be a thing that gets them over the top in addition to their other future picks and young talent on their roster. Whether it gets them a star this year, next year, or in the 2021 draft remains to be seen, but it's obvious Brown and the Sixers have high hopes for what that can become.