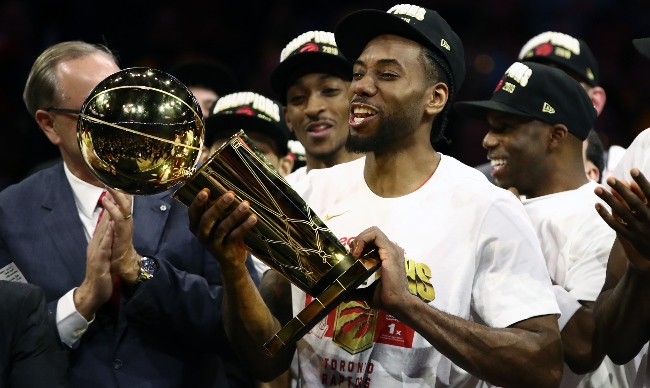 On the night the Toronto Raptors won the NBA title, a man in a Kyle Lowry jersey roamed the streets of Toronto with a large plant in hand. He's since become known as Plant Guy, a man who wanted to convince Kawhi Leonard to stay in Canada by offering up what he called a Kawactus, or a Kawhi Cactus. After doing a memorable interview with a local television outlet, Plant Guy disappeared into the night.
Other fans have taken up his cause since then. Early on in the day, a fan wearing a black We The North t-shirt was spotted holding a large, potted plant as he set up to watch the parade.
Then, in what might be Raps fans crowning achievement, a fan (who we cannot confirm as the OG Plant Guy) was able to give Leonard a small house plant as Leonard passed by atop a bus on the parade route. Leonard then held the plant in the air as the crowd and his teammates on the bus went nuts.

Upon further inspection, it does appear to be the one, true Plant Guy. Wearing the same jersey as Thursday night, it appears! Look at Drake going nuts about the delivery of a small house plant.
Does this mean Leonard will be signing a max deal with the Raptors? Can Plant Guy retire to a remote island somewhere, knowing his life's work has been completed? Stay tuned for any further updates.