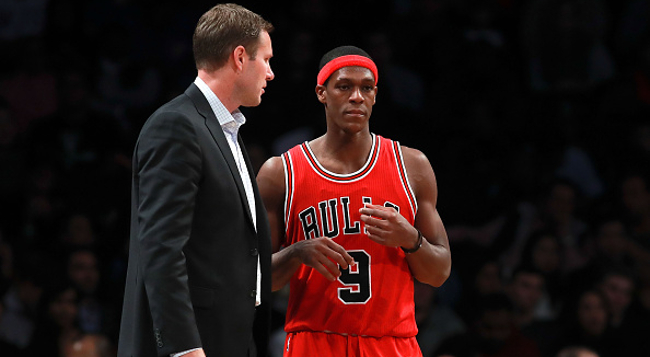 For all of his perceived faults, Rajon Rondo has built a reputation throughout his career as one of the savviest basketball minds of his generation. He's certainly had high-profile clashes with his various coaches over the years, but his leadership skills, basketball IQ, and the respect he's earned among his teammates is unassailable.
Last season in Chicago after Jimmy Butler and Dwyane Wade were critical of some of the Bulls players' effort, Rondo was the first to jump to their defense. Now that he's reunited with former teammate DeMarcus Cousins in New Orleans, the fiery big man has nothing but praise for the veteran point guard.
In a recent joint interview with Shams Charania of The Vertical, Cousins gushed about having Rondo back in the fold, and when Charania asked whether he might someday transfer those leadership traits to the coaching chair, Rondo didn't hesitate with his answer.
Via The Vertical:
"Absolutely I'll coach," Rondo said. "Whether it's chess or Connect Four, if it's a strategy game, especially if it's the playoffs, that's what I love the most. You have to counter. Each game is different, and that's when the coaching style really comes into play, in the playoffs."
Despite singing his praises and predicting that he could be one of the best to ever do it, Cousins had a very different reaction when asked whether he'd be able to play for Rondo, hinting that the two would probably butt heads too much for it to work.
On the court, however, the duo is on the same page about their collective goal to make the playoffs, which will be no easy task in the loaded Western Conference. It's also a chance for Rondo to prove that he can still be a productive NBA player before he's forced to make that transition into his post-playing career.