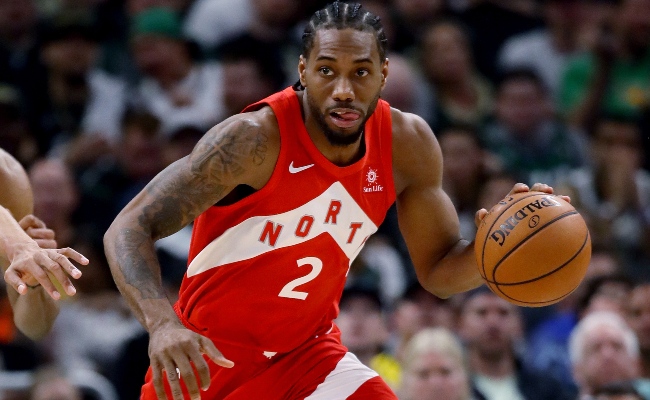 The Toronto Raptors are one game away from playing in the NBA Finals for the first time in franchise history. Toronto managed to steal home court away from the Milwaukee Bucks in Game 5 of their Eastern Conference Semifinal series, picking up a 105-99 win at Fiserv Forum on Thursday night and putting them on the cusp of a matchup with the Golden State Warriors.
In the aftermath of the team's two losses in Toronto, Bucks coach Mike Budenholzer decided to make a lineup change, inserting Malcolm Brogdon into the starting group for Nikola Mirotic. It gave Milwaukee its most frequent starting five on the season, and the move paid off early on.
The Bucks started the game on an 18-4 run, with Brogdon hitting an early triple. We also got some early Giannis Antetokounmpo silliness, as he set up a Brook Lopez dunk with a gorgeous dish and finished an alley-oop through contact.

But the biggest factor in Milwaukee's 32-22 lead after a quarter was the play of Eric Bledsoe. The Bucks tend to go as their explosive point guard goes, and during the team's two losses in Toronto, Bledsoe struggled mightily. He managed to get into a groove early on in Game 5, however, with a team-high nine points in the frame. Milwaukee also did a great job sharing the ball, as both Antetokounmpo and Khris Middleton had five assists.
Toronto was undeterred, though, and came right back in he second quarter. Their defense was stifling and their offense managed to hit some shots, and thanks to a major run over the first 6:24 of the frame, the Raptors tied things up.
Following a Bucks timeout, Toronto managed to take the lead, and the two teams spent the remainder of the quarter trading the lead. Milwaukee managed to close the half with a little momentum, giving themselves a 49-46 lead entering the locker room. Unsurprisingly, the top scorers for each side were Antetokounmpo and Leonard, with both scoring 13 in the game's first 24 minutes. Leonard was his usual self, picking his spots and knocking down jumpers, and while Antetokounmpo struggled from the field and the free throw line, those things usually aren't major issues when he's doing stuff like this.
Milwaukee also received a major boost from Brogdon, who scored 12 points and pulled down six rebounds in the first half. Bledsoe chipped in 11 of his own, while Kyle Lowry (nine points) and Pascal Siakam (eight points, nine boards) gave Leonard a hand.
The third quarter was much of the same. Milwaukee jumped out to a big lead, and over the next few minutes, Toronto managed to respond and get things close once more. Both teams got huge lifts from their backup point guards — Fred VanVleet had nine points in the quarter, while George Hill had seven — but were otherwise deadlocked, giving the Bucks a 75-72 edge heading into the fourth.
It was around this point that Leonard decided he was done playing around and took over. He scored 10 early points in the quarter, showing off the 1-on-1 game that makes him so lethal.

Toronto's defense was swarming, too. A Lopez dunk attempt was met by a trio of Raptors defenders at the rim, leading to a block by Marc Gasol.
The common theme of this game was how teams responded to falling behind big. While Toronto led by as many as eight points in the fourth, Milwaukee managed to come back. The breakthrough came when Lopez canned a triple to tie things up at 93 … only for VanVleet to respond with his seventh triple of the night.
While the Bucks did everything in their power to not go down 3-2 heading back to Toronto, their efforts came up just short. Leonard was the man of the night, dropping 35 points, dishing out nine assists, and pulling in seven rebounds. VanVleet exploded for 21 points; Lowry had a 17-point, 7-rebound, 6-assist outing; and Siakam had a double-double with 14 points and 13 rebounds. For the Bucks, Antentokounmpo led the way with 24 points, while Bledsoe pitched in 20 and Brogdon went for 18 points, 11 rebounds, and six assists.