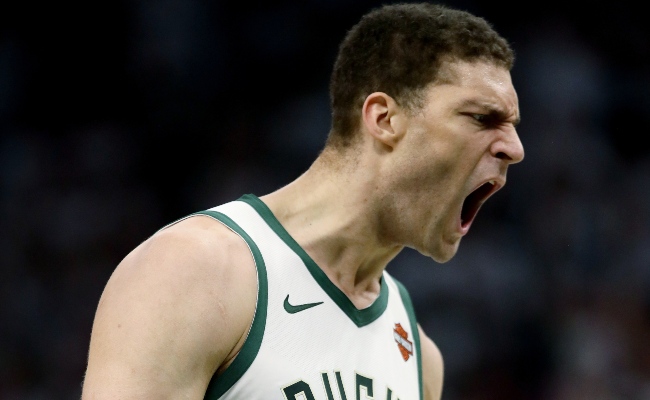 Arguably the best parts of the NBA Playoffs are the completely random breakout performances by someone you'd never expect. In Game 1 of the Eastern Conference Finals in Milwaukee, that player was Brook Lopez, who submitted one of the best performances of his career as he led the Bucks to a 108-100 win and 1-0 series lead.
Lopez was everywhere on Wednesday night, scoring a postseason career-high 29 points on 12-for-21 shooting, to go along with 11 rebounds and four blocked shots. It was sweet vindication for the player who was jettisoned from the Lakers last summer despite having reinvented himself as a stretch big for the modern era.
He hasn't exactly been Splash Mountain this postseason, averaging just eight points per game on 24 percent shooting from three, but he broke out of that slump in a major way in Game 1 to help the Bucks retain home-court advantage. He was doing it in every conceivable way, knocking down timely three-pointers and even showing off a nimble up-and-under move in the lane at one point in the second half.
Giannis Antetokounmpo put up 24 points, 14 rebounds, six assists, two steals, and three blocks, but had five turnovers as the Raptors did a reasonably good job of putting the clamps on him every time he tried to make his signature spin move in the lane, forcing him to pass out to the perimeter and cough the ball up on multiple occasions.
Still, the Bucks spoiled an equally heroic effort from Kyle Lowry, who likewise submitted one the best and most efficient postseason performances of his career. Lowry scored 30 points and made seven of his nine three-pointers on the night, including this unconscious bucket to cut the lead to two midway through the fourth quarter.
One of the central questions going into Game 1 was just how depleted the Raptors might be after their physically and emotionally taxing series against the Sixers, while Milwaukee, on the other hand, had earned a full week of rest after dispatching the Celtics handily last week. Toronto didn't betray any of that fatigue until perhaps late in the fourth quarter as the Bucks pulled away and they were unable to get a bucket or a stop on the other end. In fact, outside of Lowry, the final frame was brutal for the Raptors.
Kawhi Leonard followed up his phenomenal outing in Game 7 against the Sixers with 31 points, nine rebounds, and four steals in this one, but was just 1-for-5 from downtown and 10-for-26 overall from the field. Now, the Raptors have to get back to the drawing board and figure out where they can get back on track prior to Game 2 on Friday.