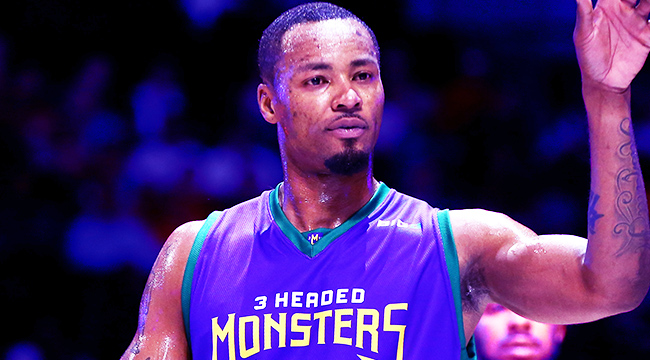 When you hear the name Rashard Lewis, the 2000 Supersonics, late 2000 Orlando Magic teams, and a dynamic, almost stretch-four figure come to mind. In a lot of ways, his game was ahead of its time. He would've fit in great in today's era of space and pace, as a mismatch and a legitimate scoring threat.
Coming out of high-school and electing to skip college, he was one of few who transitioned quickly to an elite player. Within three years, Lewis went from playing 20 games his rookie year to playing 82 and 78 in his second and third seasons respectively. He'd be named to an All-Star team shortly after and would eventually move onto stops with Orlando, Washington, Miami, and now, the BIG3's 3 Headed Monsters.
The team, which is one of eight in Ice Cube's new BIG3 league, has arguably the most polished and poised player in Lewis and are certainly a threat to win it all.
DIME caught up with Lewis to talk about the new league and his new initiatives for it, along with his career in the NBA.
Rashard, I wanted to first discuss what you're allowing kids to do at the BIG3. We heard you're working with kids to provide free tickets and access to the BIG3 games, is this true?
Yeah, so any kid that comes with a paid adult will get in free. When I was a kid, I wasn't able to attend a lot of games because of the financial situation my family was in and I just want to allow kids to be able to get the opportunity to see basketball at a high-level. I just think it's very important that kid's get a chance to see a BIG3 game and hopefully, when they get older, some of them will do the same.
As a kid, you weren't really able to go to games of this magnitude, was that a driving force or primary reason for you doing this?
Yeah, that was most definitely one of the reasons I wanted to do it. We weren't the poorest family, but the most important things were to have clothes, food and school supplies but we didn't have any extra to spend on extracurricular things like going to a professional basketball game or football game. So, I think it's a good way to allow kids to see us for free. When you have two or three kids, it just comes to a lot of money for five or six tickets total. So hopefully, it'll save families money and allow parents to show their kids professional basketball.
Talk to me about the BIG3, is this somewhat of a reunion for you guys? Obviously, a lot of you guys played with each other.
Yeah, getting that camaraderie and getting around the guys is great. Just having the introductory press conference and chatting with all the guys really excited me. Even just talking basketball with guys who played with or against you, that's what we look forward to. We miss that and just seeing all the faces and people, it's been incredible. It's probably one of the biggest reasons we're all in this league.
A lot of people may see it on the surface as a retired players league, but it's much more than that, right?
I think you see it in the first week. A lot of guys are going hard and it's going to be very competitive. This is something that we all want. When I played in a preseason promo game, it got very competitive, very fast. Nobody wants to lose and you can just tell everyone is into it. Once you add fans and television there, every guy wants to go out and prove themselves even more. So this is going to be much better than what people expect.
Is there any one player you're looking forward to facing or playing with most?
Well one player I'm looking forward to playing with each week is Mahmoud Abdul-Rauf. Just because of the shape that he's in and how well he plays. He's just a great defender and works hard.

When you look back at your career, who was the guy who worked the hardest?
I'd have to say Ray Allen. Playing with him in Seattle and watching him working each and every day. To this day, I think he still rides his bike miles and miles. He's actually the reason I got myself a bike. We used to workout in the summers, I really followed in his footsteps and got to see what he was about. He's just someone I tried to learn from and I became an All-Star being a teammate of his, so he just meant a lot to my career.
Did you have a chance to watch the NBA Finals, did you take it in?
Yeah, I watched a lot of it. I wish we could've seen more basketball, but I'm pretty sure everyone watched these Finals just based on the matchup.
What were your impressions of the Finals and what are your impressions of the game compared to when you played?
Well, obviously LeBron is a great player. He makes everyone around him better. Obviously, I had a chance to play with LeBron in Miami and he was great at getting teammates involved and making everyone in the team and the organization better. But, the Golden State Warriors have a lot of firepower and talent. Not only that, but I love the way the Warriors play with that talent and firepower. There's a lot of talented guys that take a lot of shots and the chemistry just won't work together. But, those guys – Durant, Curry, Thompson, Draymond, they just work. It doesn't matter who scores, they're just in it to win. I really like that about that team. They're a lot of fun to watch.
I recall you being what a stretch-four is today and your shooting was a big part of why I say that. What made you such a consistent shooter?
For some reason, growing up as a kid I wanted to shoot threes and become a guard. But, when I was in high-school I was basically a guard. Until, one summer when I grew six inches. So, the next year, my team would put me down in the post and I didn't like it a lot. So, I think I just did what was best for the team, but I always tried to get to the perimeter and shoot threes when I could. I just kept growing and with me starting as a guard, I think that's why I was able to shoot the three ball so well.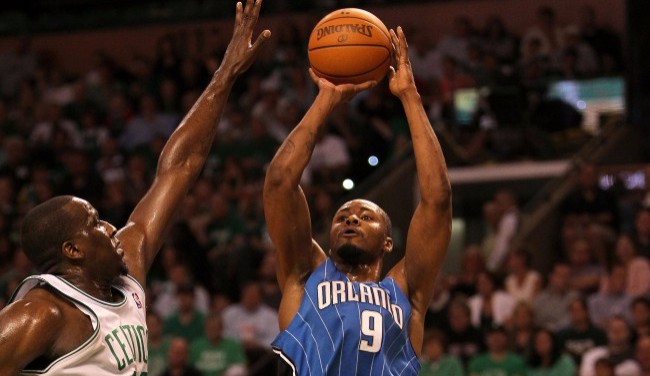 What do you think best thing about the BIG3 is?
I think we've got a lot of hall-of-fame coaches, hall-of-fame guys. I think that's the biggest thing, but it's also real competitive and we're bringing back a lot. I just think it's awesome.
If you had your own career BIG3, who would it be?
Oh man, I think with the four-point shot I have to go Curry. You can't go wrong with Durant and LeBron either, especially with the size and the way they can shoot too. So I'd say those three.
Wait, so you're not on it?
(Chuckles) Nah, I think I'd rather just coach those guys [jokingly]!