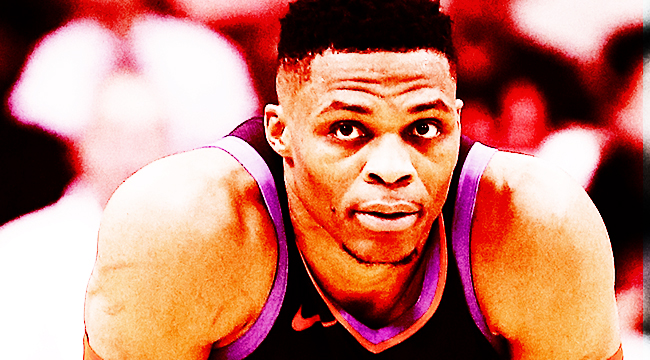 Russell Westbrook is a Houston Rocket.
It's a pretty odd sentence, all things considered. If anyone was going to stick with one team and follow the Dirk Nowitzki blueprint, it was going to be Westbrook. But even he saw the writing on the wall once Paul George was traded to the Los Angeles Clippers for an historic haul of draft picks. Westbrook understandably prioritized a win-now opportunity over a rebuild. The Thunder obliged, and here we are: looking at one of the most intriguing star duos in recent memory.
If styles make fights, fits make basketball teams. Within that lens, it's easy to scratch your head at the Rockets' decision to trade for Westbrook. He's a clear talent upgrade over Chris Paul at this stage of their respective careers, but seems to go against virtually everything the Rockets stand for. Efficiency is the name of the game in Houston, and that concept seems foreign to Westbrook.
The Rockets take a ton of threes; Westbrook bricks nearly every one he tosses up. With Harden at the helm, shooters (and movers) are needed to fully optimize his isolation exploits. Not only is Westbrook a non-threat as a shooter, he doesn't occupy the defense with timely cuts either. Harden is notorious for being disengaged without the ball, but he at least can make up for that in part by being a plus-shooter.
For many, that reality is enough to brush off the idea of this being an ideal pairing. The Rockets are the most meticulous, math-iest franchise in the league. Westbrook marches to the beat of his own drum. One may say he does what he wants. But maybe that's the potential beauty of this pairing. The unpredictability of Westbrook mostly goes against the Rockets' grain, but it may add much-needed versatility to their attack.

Shifting Gears
When you think of Rockets head coach Mike D'Antoni, you typically think of the Seven Seconds or Less Phoenix Suns. They played with an unthinkable (at the time) pace, shot a ton of threes, and racked up buckets in bunches. The 2018-19 Rockets didn't look like a D'Antoni team, even though they searched for the same type of shots. The Rockets ranked…
…22nd in overall seconds per possession (14.7)
…27th in seconds per possession following a missed shot (11.8)
…dead last in seconds per possession following a turnover (9.8)
Harden and Paul slowed the pace, picked teams apart in pick-and-roll or isolation, and got great results out of it. You can debate how aesthetically pleasing the Rockets were to watch last season, but they had the NBA's second best offense, going for 114.9 points per 100 possessions.
The Westbrook-led Thunder played with much more pace. They ranked first in overall seconds per possession (12.9), SPP following a make (15.6) and miss (10.0), and 4th in SPP following a turnover (8.0). You can attribute virtually all of that to the NBA's version of the Tasmanian Devil, as few players can turn a change-of-possession into a bucket as quickly as Westbrook can.
Six dribbles, six seconds.
Three dribbles, five seconds.
Westbrook pushing after misses has become his signature sequence. While you can debate the difficulty of grabbing the amount of uncontested rebounds he gets, you can't argue its value. Westbrook has finished fifth, tenth, and fifth in defensive rebounds per game over the past three seasons, and those boards have almost always led to fast break opportunities.
Ending possessions was arguably the Rockets' biggest problem last season, ranking a putrid 29th in defensive rebounding percentage (70.0). If you can't end possessions, you can't run. The Rockets weren't able to run as much, ranking 19th in fast break points per game (12.0). The Thunder, on the other hand, were ninth in defensive rebounding percentage (73.8) and fifth in fast break points (18.2). It's safe to say Westbrook is going to help the Rockets get some easy buckets.

Applying Half Court Pressure
Your typical Rockets possession would kick off with either Harden or Paul calling for a high screen from a big or a wing, seeking whatever advantage is presented. If the big comes and they see "Drop" coverage — the guard fighting over the screen while the big drops into the paint to protect the rim — Harden and Paul were able to get downhill, with Harden getting to the rim or Paul snaking around for his patented pull-up jumper. Any sort of switch would lead to a dribbling exhibition that ended in side-step or step-back jumpers.
Harden can get to the rim whenever; he just takes his precious time doing so. Aside from general health, the most concerning trend from Paul last season was his inability to get to the rim without a screen. In Westbrook, the Rockets now have a battering ram that doesn't need time (or help) to put pressure on the rim.
Westbrook averaged 18.4 drives per game last season, third in the NBA behind Harden (19.7) and DeMar DeRozan (18.7). He shot 50.2 percent on drives, which ranked 18th among the 49 players that averaged at least 10 drives per game. Without much shooting around him, Westbrook was still able to warp the floor with his forays to the rim. When defenses collapsed, he was able to make the correct read to the rolling big or out to the perimeter:
Westbrook was arguably the NBA's most prolific driver because of the shots he created for others, a distinction that matters when talking about his fit with the Rockets. Among those 49 high-volume drivers, Westbrook ranked first in passes (9.7), assists (2.8), and assist rate (15.4 percent).
But wait, there's more.

Westbrook didn't just lead the NBA in assists (10.7) by a wide margin (Kyle Lowry was second with 8.7), he led the NBA in the right kinds of assists. Via PBPStats, nobody assisted on more shots at the rim (358) than Westbrook. Only Trae Young assisted on more corner threes (104) than Westbrook did (98). Westbrook's 456 Moreyball assists (rim + corner three assists) led the NBA, with Young (440) and Harden (419) in the rearview mirror.
This is where the fit becomes intriguing.
When Harden and Paul were first paired together, there was pushback against the ball-dominant nature of the two. Slight optimism came when considering the prospect of Harden getting more catch-and-shoot opportunities. That never really happened because Paul and Harden played with a similar deliberateness, and Paul was never able to puncture defenses in a way that would create those opportunities for Harden.
Westbrook is a different beast. He can bend a defense to its limit because of his relentless attacking of the rim. He's good enough to create shots for himself in that way, but also has the passing chops to make cheating defenders pay. Westbrook thrives in (somewhat controlled) chaos; that chaos should be welcomed in Houston. Westbrook may not be a three-point threat himself, but he should create so many of those looks for others that it may not matter.