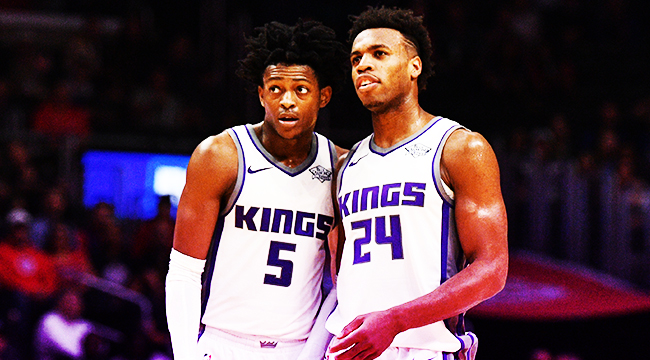 The Sacramento Kings have been one of the biggest surprises in the NBA this season, as they are 18-16 and guaranteed to enter 2019 with, at worst, a .500 record, pending the result of back-to-back games against the Lakers.
For many franchises, a .500 record wouldn't command this much excitement, but you have to remember how bad things have been in Sacramento since the heyday of the early 2000s. The Kings haven't finished a season above .500 team since 2005-06, which was also their last postseason appearance after making the playoffs eight straight seasons. Sacramento has won more than 30 games in a season only once in the last 10 seasons of basketball in the capital city of California, with 33 wins in 2015-16 at the peak of the DeMarcus Cousins era, only to see him traded the next year.
Nine coaches and 12 top-10 draft picks later, the Kings entered this season with expectations of being the same old Kangz. However, on opening night, Sacramento hung around with the Jazz much longer than anyone anticipated and beat the Thunder in Oklahoma City two games later. So far this season Sacramento has two wins apiece over the Thunder, Grizzlies and Timberwolves, along with wins over Utah, San Antonio, Indiana, New Orleans, and Dallas. They're beating up on the actual bad teams — which is what a decent to good team should do — and so far they look the part of a team that can actually compete for playoff position.
Maybe more importantly, the Kings are an awful lot of fun to watch, which has not been something anyone's said about Kings basketball in more than a decade. Entering the season, this roster seemed like yet another odd mix of young and old talent, with few seeing the vision of how it would all work. However, whether by luck or skill, the Kings have struck a pretty tremendous balance from frontcourt to backcourt and are getting better production from just about everyone than was expected.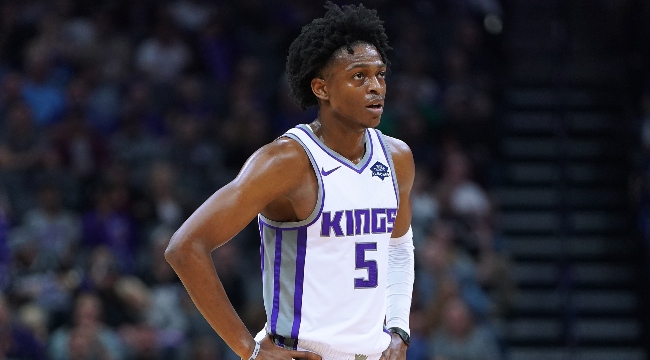 De'Aaron Fox has officially taken "the leap" and has a legitimate case to be an All-Star in the West. Buddy Hield continues to light it up from three-point range (42.9 percent on over seven attempts per game) and has emerged as a quality all-around scoring guard, capable of being more than just a spot-up shooter. Bogdan Bogdanovic is picking up where he left off last year bringing some perimeter scoring pop off the bench, along with rookie Marvin Bagley III. Nemanja Bjelica has been a perfect fit as the floor-spacing big they desperately need, while contract year Willie Cauley-Stein has been a joy to watch. Iman Shumpert has joined the starting lineup now that he's healthy and is having the best season of his career in his ninth season in the league.
The Kings are not a good defensive team, but they play at a breakneck pace, led by their speedy point guard in Fox, and hit an unfathomable percentage of their threes as a team (38.6 percent as a team, good for third in the NBA). Dave Joerger may have friction with portions of the front office, but what he and this staff have done with this team is nothing short of remarkable. Just about every key young piece on the Kings managed to take a step forward from last year, which rarely if ever happens at the same time, and the team, even when they don't play well, play exceptionally hard.
Wednesday night's game against the Clippers was the latest example of this, as Sacramento fell behind by 27 before a 24-1 run in the fourth quarter by the bench unit cut the lead to three. The Kings couldn't capitalize, but it was emblematic of the way they've played all year. Sometimes they just aren't good and look an awful lot like the team most expected to see, but I'll be damned if they don't play hard for 48 minutes and eventually go on a run that makes the other team sweat just a bit in every game.
Aside from their style of play, part of what makes this Kings season so fun is how unexpected it's been. They're playing like a team freed from expectations, naive to the pressures that come with being a playoff contender in the insanely competitive West. The Pelicans have to worry about whether their struggles will lead to Anthony Davis' departure. The Rockets have to wonder if a summer penny-pinching ruined a chance at a Finals run. The Warriors have to win a title or have the season be a failure. The Lakers can't afford to waste a season with LeBron, and so on and so forth. The Clippers are the closest team to the Kings in terms of being a surprise contender, but they weren't considered nearly as far away as Sacramento.
Ask most fans what their favorite season was for their team and they'll bring up a season where the team shattered expectations. Most Warriors fans will say the 2014-15 season was their favorite, followed by the We Believe squad. Hawks fans will tell you 2007-08 or 2015-16, with both teams producing stunning results after varied stages of mediocrity. Aside from the title run in 08, Celtics fans are partial to the Isaiah Thomas team from 2016-17. The Kings are having that kind of season and Sacramento's fans should fully embrace it.
Whether they make the playoffs or not, the young Kings are as fun to watch as any team on a nightly basis. They play an exciting style, have players that do incredible things on the floor, and win or lose, you can find something positive to take away on most nights. Next season, the Kings won't be a surprise to anyone and will be expected to follow this up by taking another step forward and contending for a playoff spot again. That's when things will get frustrating if they take a step back or simply not be as much fun if they spend all season floating between the 7-10 spots in the West, with fans nervously watching to see if they crack the top eight.
This season, though, is one to enjoy in Sacramento. It may be the most fun Kings fans will have for some time, and even those outside of Sacramento should be tuning in to Kings games because there are few teams more enjoyable to watch this season.