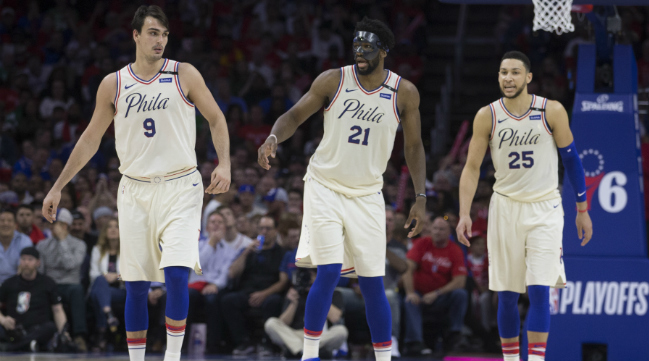 When it came to having the ability to put together an appealing package for a superstar in a trade, three teams popped up: Boston, Philadelphia, and the Lakers. All three have some combination of young talent and/or future draft picks that, if they wanted, could potentially put them over the top in a deal for someone on the trade block.
Unsurprisingly, all three of these teams were mentioned as potential suitors in a trade for Kawhi Leonard, but on Wednesday, we learned that Toronto was ultimately the organization to get the job done. There had been plenty of rumors about all three teams in their pursuit of Leonard, and after the dust settled, we got some more insight into how things ultimately went for the Sixers in their pursuit of Leonard.
Zach Lowe of ESPN gave insight into the conversations between Philadelphia and San Antonio from the perspective of what the Spurs wanted in return. In short, San Antonio shot for the moon, only for their efforts to fall flat.
Philadelphia's potential package of Robert Covington, Dario Saric, and the Heat's unprotected 2021 pick didn't move the needle. It's unclear if the Spurs had interest in Markelle Fultz; the two sides never discussed him seriously, and the Sixers would not have parted with him, sources say. The Spurs made it clear any deal with Philly would require Ben Simmons or Joel Embiid (likely Simmons), and the Sixers weren't going anywhere near that, league sources say.
Understandably, there was no way on earth Philadelphia would trade Simmons or Embiid for Leonard (or, in all likelihood, most players). The Spurs were obviously taking the "the worst thing that can happen is they say no" approach, and to the surprise of no one, the Sixers said no.
But as it turns out, Philly might not have been all that interested in paying a premium for Leonard after all. According to David Aldridge of NBA.com, not only were the 76ers uninterested in giving up Embiid or Simmons, but as it turns out, they weren't exactly eager to part ways with Fultz or Saric, either.
San Antonio had had significant discussions with the Philadelphia 76ers — a team Leonard would have given a fair shake at convincing him to stay had it been able to make a deal with San Antonio. But the 76ers were unwilling to include guard Markelle Fultz, the former first pick overall in the 2017 Draft, or forward Dario Saric in any package proposals for Leonard.
There are plenty of ways to look at this. Maybe the Spurs had zero leverage and the Sixers realized that. Maybe Philadelphia caught wind that no other team was selling the farm and wanted to follow suit. Perhaps the Sixers just didn't want Leonard all that much, or for those who are super into Basketball Conspiracy Theory Theatre™, maybe they got some insight into Leonard's health from their chief medical officer, who was involved in Leonard's rehabilitation process.
In the end, this makes for a fun what if and not much more, but it's still fascinating that San Antonio and Philadelphia were so far apart on a potential deal.