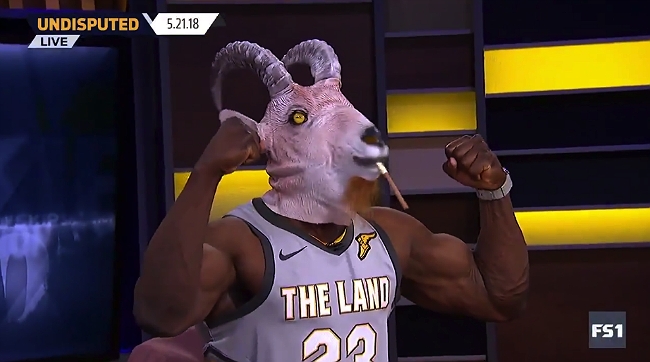 There are plenty of people in the modern media who think LeBron James is the greatest basketball player ever, but no one has gone to the lengths that Shannon Sharpe did on Monday morning.
The Undisputed host broke out a goat mask and James jersey to flex on Skip Bayless after the Cleveland Cavaliers bounced back at home on Saturday night to make their Eastern Conference Finals series against the Boston Celtics a bit tighter.
Sharpe — a noted LeBron booster — sported a James "The Land" jersey and a goat mask, leaving Bayless looking incredulous while Joy Taylor couldn't help but laugh.
"What is that?" Bayless asked before he was abruptly cut off by a masked metaphor.
"I can be one of two things Skip Bayless," Sharpe said after making some bleating sounds. "I can be a centaur or GOAT James. Which am I?"
Bayless tried to answer, but Sharpe interrupted him by yelling "THE GOAT" a few times, answering his own question. He then proceeded to flex.