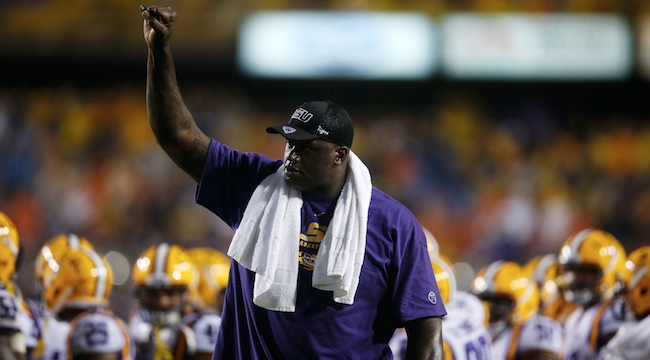 In the 1994 film Blue Chips, Shaquille O'Neal plays a hulking high-school hoopster who's recruitment is decided by the lavish gifts he receives from collegiate boosters. And more than twenty years later, the future Hall of Famer has finally confirmed rampant speculation by admitting the blurred lines between fiction and reality.
O'Neal, who played three seasons at Louisiana State University before declaring for the NBA draft in 1992, told the assembled crowd at an all-access Los Angeles Lakers event that he was paid to suit up for the Tigers – and wouldn't mind his teenage son accepting similar bribes to play at his alma mater.
The NCAA prohibits its student athletes from receiving "extra benefits." The organization defines that unnecessarily and laughably broad term as follows:
An extra benefit is any special arrangement by an institutional employee or a representative of the institution's athletic interests (including fans) to provide a student-athlete or the student-athlete's relative or friend a benefit not expressly authorized by the NCAA legislation.
According to Ohio University, "extra benefits" pertain to everything from special discounts at a local establishment to a car ride from a coach or other school employee – in addition to more obvious "gifts" like cash, cars, and clothing.
In September 2011, LSU unveiled a 900-pound statue of O'Neal outside its practice facility. The mammoth bronze memorial still stands today, harkening back to a time when the University's athletic program was known for much more than just Tiger football.
And today, O'Neal is making headlines for LSU basketball again. Unlike ones from the early 1990s, though, these will be met with widespread dismay as opposed to celebration.
(Via IWU.edu)
Now Watch: What Was Michael Jordan's Greatest Season?